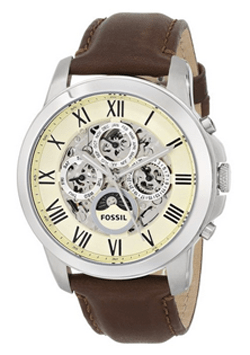 The chronograph display skeleton watch combines a more traditional facing with a limited, but still unique skeleton interior display, reflecting the fine craftsmanship of the watch's mechanisms. The leather band is also a neutral brown which is perfect for matching various professional and leisurely outfits.



This progressively styled skeleton watch was designed in the United Kingdom and sports a modern 44 millimeter face with accents of rose gold and utilizes an automatic winding mechanism. With a purposefully designed distressed leather band, this piece is a perfect combination of fashion and timekeeping ready for the boardroom or dinner party.
With a 42-millimeter face size, it's slightly larger than older watches but is designed to remain smaller than many modern 44 millimeter watches. The design is modern and aggressively stylish (read: it might be good for fashion-forward guys) and utilizes multiple dials and a sleek black on silver display.



An old-school look that gets a touch of extra class thanks to its gold accents, this Kenneth Cole skeleton watch combines traditional aspects of timekeeping such as the neutral brown leather band and aforementioned rose gold accents. Designed with a protective mineral crystal display window surrounded by a stainless steel bezel, this piece is a wardrobe constant.