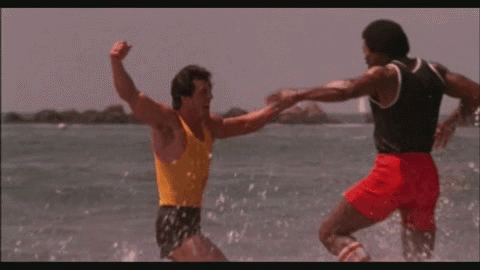 The Best Men's Workout Shorts
Whether or not you're sporting a ripped physique like Rocky or Apollo (above), you don't want to sport nut-hugging shorts like Rocky or Apollo (above). It's important to be comfortable while you train so you A) don't cut your workout short, and B) don't accidentally let a testicle slip out while you run (see Rocky and Apollo, above). To help you on your search, we've compiled a handful of the best workout shorts for men, starting with …
First off, these 83 percent polyester and 17 percent Spandex shorts are incredibly comfortable. Second, they have a built-in liner so you don't have to wear undies. Made for runners, you get two side zipper pockets — they aren't deep, but do you really want to lug around a bunch of stuff while you run? — and are quick to dry after you get 'em soaked with a long run.
Perfect for a trip to the gym or a lazy day on the Barcolounger, these sweat-wicking shorts feel like soft cotton but include Lycra fabric so they never lose their shape. Most important for a workout, they are naturally breathable. So you'll sweat but won't suffer from a tsunami of wetness down there.
Made with Nike's popular Dri-FIT fabric, these shorts help keep you cool and comfortable while you train. Flat seams also do a good job reducing chafing at the gym or on the track.
Crafted from woven polyester, these are some of the best workout shorts for men who also want to run or do CrossFit. The shorts' strong suit are its fabric, which wicks away sweat while letting you stay nimble. And the Armourvent panel across the back helps to avoid unsightly sweat stains.
Tesla's breathable micro mesh is engineered to detect and dry moisture quickly while fitting comfortably and snugly against the body. And, unlike some other breathable options, these shorts also include a side pocket for convenient storage.
While these shorts don't boast fancy moisture wicking technology, they are made from a comfortable, cool mix of polyester and spandex. For added convenience, these shorts include two side pockets and a back pocket that zips shut.
Also Read: 14 Awesome Pairs Of Running Shoes For Men
The good news: some of the best running shoes for men don't cost more than your rent.