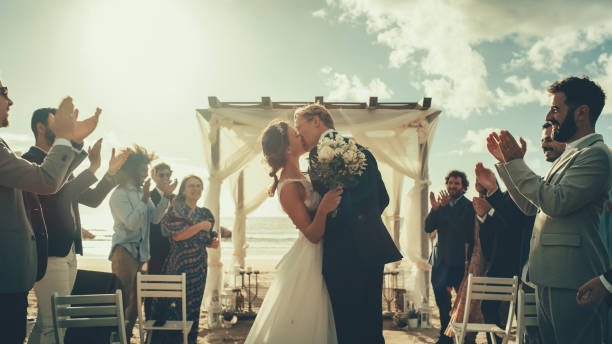 If there's one thing that's certain about weddings, it's that everyone wants to put their best foot forward. While it might be the bride and groom's big day, it's also an opportunity for the guests to show off their style, wit, and charm. In this comprehensive guide, we'll walk you through the dos and don'ts of being a great wedding guest or groomsman, tackling everything from what to wear to a wedding to how to ensure you're remembered for all the right reasons.
When it comes to wedding attire, the options can be overwhelming. It's important to strike the perfect balance between looking dapper and not upstaging the groom. A well-fitting suit is always a safe bet, but don't be afraid to add some personality with a colorful pocket square or a quirky pair of socks. The key is to exude confidence without stealing the limelight. But being a great wedding guest goes far beyond looking the part. You'll also need to navigate the social scene, make new friends, and avoid any potential pitfalls. So, without further ado, let's dive into the world of weddings and discover how you, as a modern man, can shine as a guest or groomsman.
Making a Great First Impression
Whether you're a groomsman or a guest, first impressions are everything. Start by introducing yourself to other guests with a firm handshake and a warm smile. Be genuine and engaging in your conversations, listening attentively, and asking thoughtful questions. A little humor goes a long way in breaking the ice and making new connections, so don't be afraid to share a funny story or two.
Being well-informed about the bride and groom's interests, as well as any noteworthy aspects of their relationship, can serve as excellent conversation starters. This is especially useful if you find yourself mingling with guests you've never met before.
Bringing the Wedding Gift
A wedding gift is more than just a token of appreciation; it's a symbol of your well-wishes for the couple's future together. But choosing the perfect gift can be a daunting task. First and foremost, consult the couple's registry, if they have one. It's there for a reason, and picking an item off the list ensures you're getting them something they truly want and need. If you'd like to go the extra mile, consider personalizing your gift. For example, a custom-engraved picture frame with the couple's wedding date is both thoughtful and practical. Alternatively, you could opt for a sentimental gift that reflects your relationship with the couple, such as a photo album filled with memories from your time together.
Remember, it's not the price tag that counts, but the thought behind the gift. A well-considered, heartfelt present will mean far more to the couple than an expensive but impersonal item.
Dresses for Your Date
While you may have your suit game on point, it's equally important to ensure your date looks fabulous as well. When searching for cocktail dresses for a wedding, consider the venue, the theme, and the dress code. A garden wedding, for instance, calls for a light, airy dress, while a black-tie affair demands something more formal and elegant. Incorporate your date's personal style and taste into the decision-making process, and be mindful of the colors in the wedding palette. You don't want your date to clash with the bridesmaids or, worse, be mistaken for one of them! It's important to give your date ample time to find the perfect dress, so don't leave it until the last minute. Offer to accompany her on her shopping trips, providing honest but supportive feedback. Remember, a confident date will only serve to enhance your own wedding guest experience.
Navigating the Dance Floor
When the DJ cranks up the volume and the dance floor beckons, don't be the guy glued to his chair. Even if you don't consider yourself a dance aficionado, joining in on the fun is essential. After all, a wedding is a celebration, and your willingness to participate reflects your enthusiasm for the happy couple. To avoid any awkward missteps, consider brushing up on your dance skills before the big day. A few basic moves will go a long way in boosting your confidence and ensuring you're not left on the sidelines.
And if the bride and groom opt for a choreographed number à la Justin Timberlake and Jessica Biel's wedding, be ready to embrace the challenge with gusto. There's no better way to show your support than by mastering the dance routine and joining in on the fun.
The Art of Toasting
Weddings often involve toasts, and as a guest or groomsman, you might find yourself called upon to raise a glass in honor of the newlyweds. Be prepared with a heartfelt, concise, and engaging toast that pays tribute to the couple's love story. Refrain from inside jokes or embarrassing anecdotes, and instead focus on offering well-wishes and advice for their future together. A touch of humor is always appreciated, but remember to strike a balance between being witty and sentimental.
Being a Team Player
From helping to set up the venue to participating in group photos, being a great wedding guest often involves rolling up your sleeves and lending a hand. Offer your assistance wherever possible, and be willing to go the extra mile to ensure the couple's day runs smoothly. Being a team player also means knowing when to step back and let the professionals do their job. Trust the wedding planner, photographer, and other vendors to handle their responsibilities, and focus on being a supportive and positive presence.
Being a great wedding guest or groomsman is an art form, and by following the advice in this guide, you'll be well on your way to mastering it. From dressing impeccably to nailing the perfect toast, every detail contributes to your overall impact on the wedding day. Remember, weddings are about creating memories that will last a lifetime, both for the couple and the guests. By being a thoughtful, engaged, and supportive presence, you'll be contributing to the happy couple's special day in the best way possible.
And who knows, perhaps your prowess as a wedding guest will even inspire a celebrity couple or two. After all, if Prince Harry and Meghan Markle's wedding taught us anything, it's that even the most star-studded affairs are made all the more memorable by the love and support of their guests. So go forth, modern man, and tackle the wedding season with style, grace, and a healthy dose of humor. Your friends, family, and, most importantly, the bride and groom will be forever grateful for your efforts to make their big day truly unforgettable.