Like true success, gold watches are hard to come by. This is not because they are less desirable; it is just that good things are hard to come by. They wouldn't be so precious if they could be found on the wrist of everyone. Gold watches for men are rare and expensive, which is why they are pretty much reserved for sophisticated men.
What Makes Gold Watches Stand Out?
The truth is that most men will love to wear gold watches. These gold watches are symbols of first-class success. True gold screams substance, wealth, and power. For anyone who can afford gold watches, they are highly recommended. This is because they are not just fashionable timepieces but timeless investments that will remain valuable for ages.
Why Should You Own a Gold Color Watch?
Some of the benefits of owning gold color watches include:
Long-term Investment: Gold equals money! Gold watches can serve as long term investments. If you are a long-time collector, adding a gold watch to your collection can be a sensible investment.
Milestone Purchase: Perhaps you've achieved a business milestone, or you are getting closer to your retirement, you can celebrate the occasion by purchasing a gold watch.
Vintage Timepiece: Gold watches are vintage timepieces that are rare. Owning one of these precious timepieces can be a steal.
What Are The Top Three Gold Watches For Men?
Deciding to buy a gold watch is a bold move, but do you know how to go about it? Men's designer gold watches are not mass-produced, so you have to be very careful to avoid buying a fake. It is best to buy directly from the makers. Wondering how to find the perfect gold watches for men? Here are the top 3 options to consider right now:
Ascari Two-Tone Gold Steel Link
One of the most remarkable things about Filippo Loreti is that it has disrupted the luxury market in ways many didn't think possible. The Ascari series has watches that have left the luxury market in shock in terms of their prizes, and this is one of the best. Elsewhere, a watch of this quality will cost a fortune, but the manufacturers offer it at an incredibly affordable price.
In terms of craftsmanship, this is a watch you will be proud of. The styling is quite sophisticated, making the watch the perfect choice for ambitious men. The eye-catching curves mean you don't have to choose between sport and style. It will be an incredible piece on your wrist in daylight and is well suited for night hours too.
In terms of accuracy, you will never have it better than this. The watch is meticulously calibrated for perfect timing. The manufacturers understand that every second count, so they take time to craft every piece. Other qualities that will impress you include the luminous hands that ensure exceptional clarity, dual time zone, Iconic artwork to honor Ascari's racing legacy, and hybrid movement for accuracy.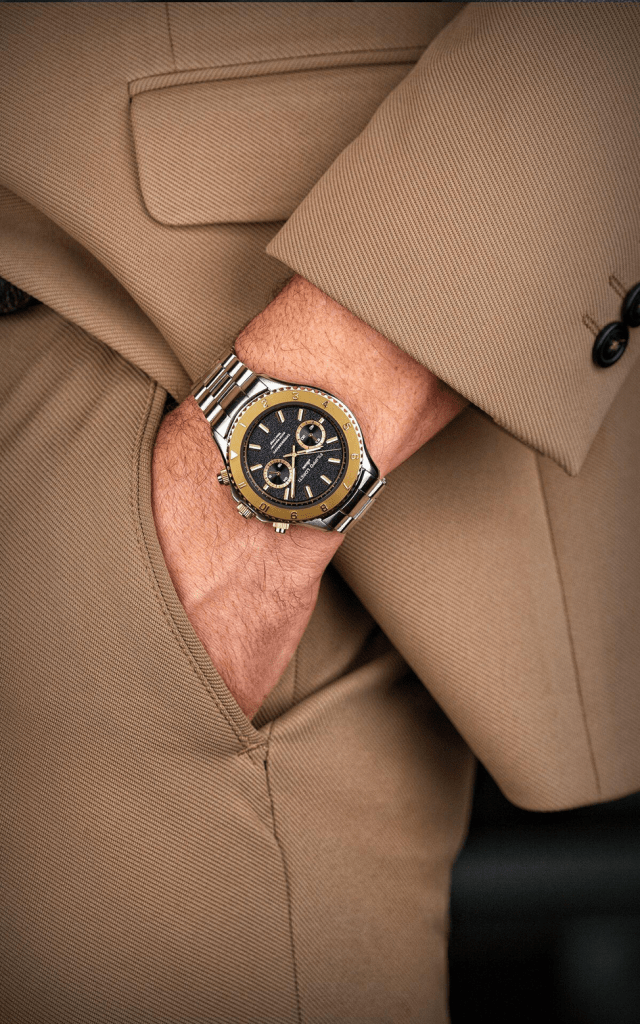 Ascari Grand Prix GP 1951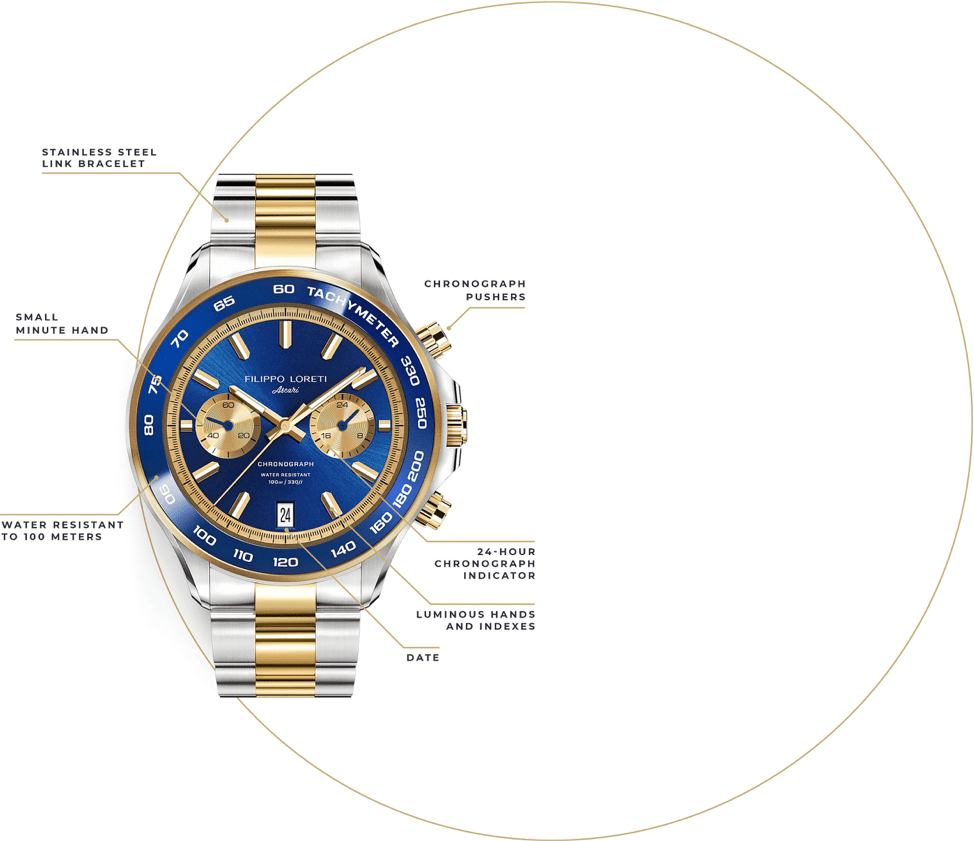 The Ascari Grand Prix series is inspired by the speed in honor of Alberto Ascari, the sole Italian champion for Ferrari. This is a watch for champions and should be on your wrist if you consider yourself one. In terms of design, this is one of the most exciting handcrafted male gold watches you will find. And considering the price you will pay for it, this is more like a steal. Let it be your little secret.
The Ascari Grand Prix GP 1951 has some impressive features you will love to know about. There are luminous hands and indexes for aesthetic and clarity; 24-hour chronograph indicator and chronograph pushers; a small minute hand; date indicator, stainless steel link bracelet, and more. It is also water-resistant to 100 meters.
The 316L stainless steel case is considered the quality standard for premium watches. The watch also boasts of sapphire coated highly scratch-resistant mineral glass, which provides optimum protection for the face of your watch to enhance longevity. In addition to being incredibly affordable, this luxury watch comes with a ten years certificate of authenticity.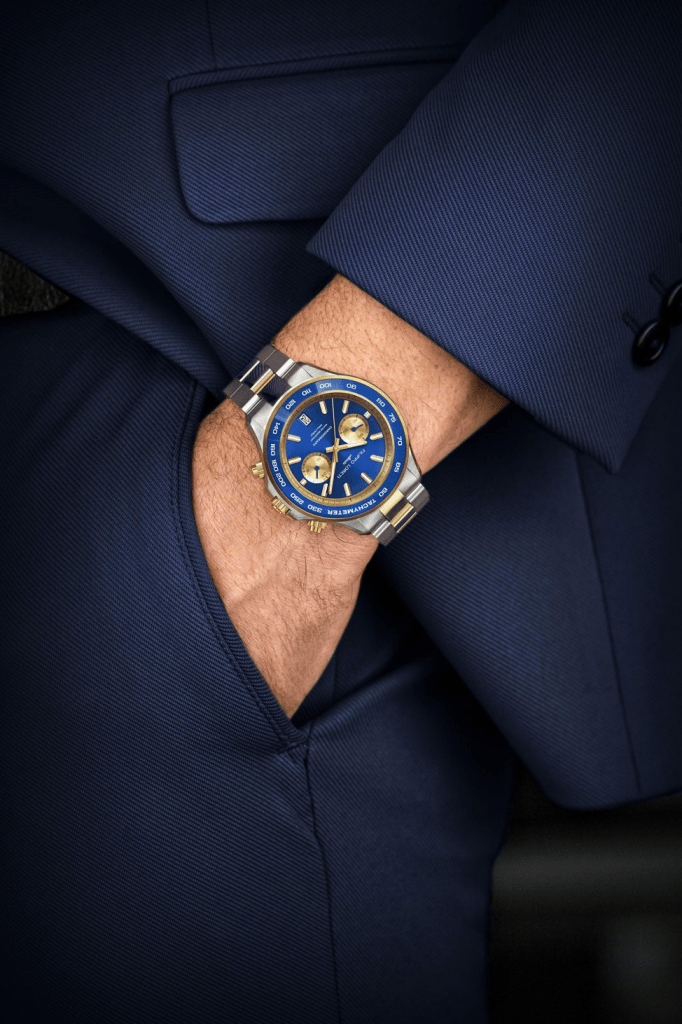 Venice Moonphase Blue Gold Mesh
The last, but certainly not the least, in our list of top three gold watches for sophisticated men is from the Venice series. This is another series that boasts of very sophisticated crafted timepieces that will give a man's wrist a million dollar feel. Like the other watches reviewed here, this precious piece is made with the right material but is also incredibly affordable.
One of the most beautiful things about this men's designer gold watch is the stainless steel mesh bracelet. Besides being a very durable choice, it is a versatile option that will compliment your professional or casual looks. You can't go wrong with this. The stainless steel case is also top-class, just like the sapphire crystal that will protect the face of the watch and ensure that it is always clear.
Venice Moonphase Blue Mesh has an anti-reflective coating, which reduces glare, thereby helping you to see the face of the watch even under poor lighting conditions. It also comes with a 10-year international warranty. Like the other two watches above, this premium watch is not mass-produced. They are all custom-made, so you will have to place an order as soon as possible and wait for the manufacturers to craft your timepiece and deliver it to you.
Conclusion
Gold watches for men are precious timepieces that will make you stand out on any occasion. Finding the perfect one for you can be difficult, which is why we are here to help. The top 3 we have reviewed here are great options if you are not just after popular men's watches but something unique. They are from one of the best manufacturers and are all offered as limited edition watches. Placing an order earlier will enhance your chances of getting your watch on time.