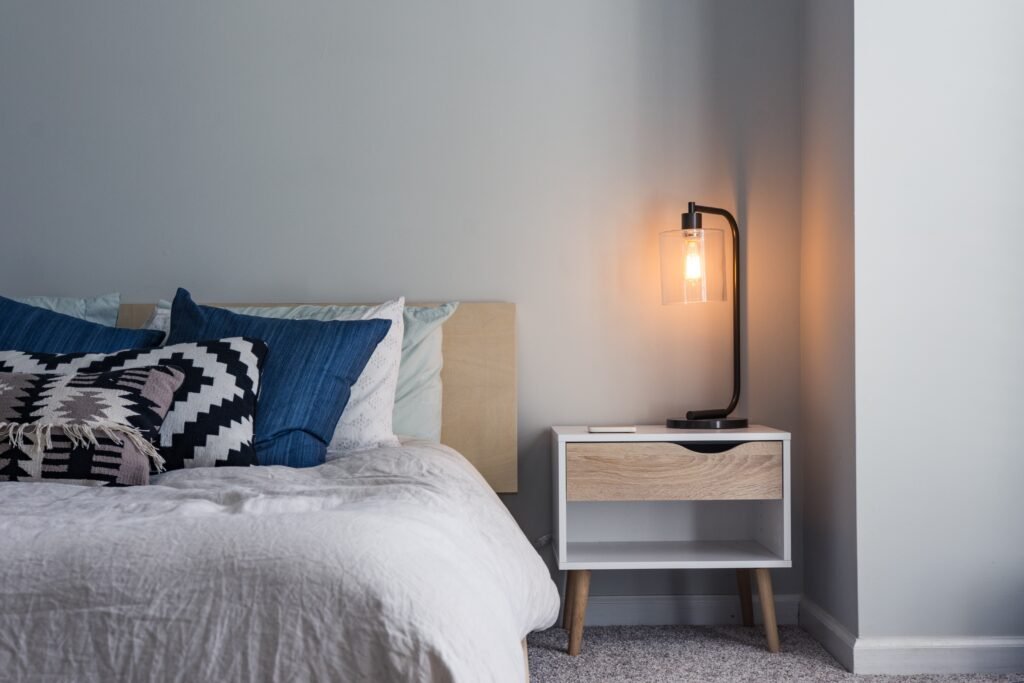 Growing up, your bedroom was perhaps one of the most important rooms in the home.
For a long time, our bedrooms were the only place where we had freedom in terms of interior design and how we behaved. As we grow up and move out of our family's space, we have more free reign to design a home the way we want, and the bedroom of our childhood is long forgotten.
However, just because the bedroom is no longer the space where you spend the majority of your time, nor is it the only place you can decorate freely, does not mean it should be neglected.
As adults, a lot of us have bedrooms that need work. Whether your space is cluttered or uncoordinated, the bedroom is perhaps the one room in the home that needs more work than anywhere else.
The new year is the perfect time for you to reconsider your interior design and finally take steps to improve your bedroom.
Is Your Bedroom Neglected?
As the bedroom is usually a private space, most homeowners are not as concerned about the way this room looks compared to the rest of the home.
This is why a lot of us are living with messy, uncoordinated, and outdated bedrooms despite having beautiful homes. However, just because the bedroom is not used or seen by everyone who may come into your home does not mean it should be neglected.
This is the year to make changes, and you deserve an attractive bedroom.
Your bedroom should be a sanctuary from the rest of the world. This is the space where you retire at the end of the day and, therefore, should provide a relaxing and safe environment for you.
This is a space used during a time of need, as bedrooms are the place to retreat during sickness and poor health, as well as helping us get the rest we require to be productive people during the day.
However, most of us would not say that our bedrooms evoke a sense of tranquility as they are usually disorganized and cluttered.
As the bedroom is a private space, it is easier to let things go in this room, and people continue to struggle with messy bedrooms well into adulthood. Even if your bedroom is organized and tidy most of the time, it is unlikely that you are still impressed with its appearance, and now is the time to make changes.
How To Improve The Bedroom
Whether you have moved house or are renovating your existing bedroom, it is best to start from scratch. This makes it easier for you to design a space that is fit for purpose and suits your needs because you will not be overwhelmed by what you are already using.
When starting from scratch, you need to reconsider everything you currently have in the bedroom and look for something new.
The key to improving your bedroom is building the space from the ground up, which includes looking at new bedroom furniture.
To make a mature and comfortable bedroom, you should begin renovations by looking into bedroom furniture. To ensure your hard work lasts a long time and has the right effect on your home, we'd recommend looking at high end bedroom furniture.
High-end furniture can add the touch of luxury that your home has been missing and will allow you to create the sanctuary in your bedroom that you deserve. There are so many ways that you can create this feeling in your bedroom, and there are many options for high-end furniture for you to consider.
From luxurious four-poster beds to designer closets, you can improve the way your bedroom looks while ensuring it remains fit for purpose.
You can continue to have everything you need in the bedroom without it becoming cluttered or messy. Buying new bedroom furniture allows you to create a new theme for the bedroom and ensure this is consistent in the space, which can dramatically improve the way this space makes you feel.
Bedroom furniture comes in a range of styles to ensure there is something for everyone. You can make a curated space that reflects your personality while also offering the retreat you need from the rest of the world.
Where To Buy Bedroom Furniture
If you are looking to make changes to the bedroom, then you will be looking for new places to shop.
While there is no shortage of furniture brands and companies that sell household items like this, not all of them are made to the same standards. When redesigning the bedroom or making this space in your new home for the first time, you want furniture that not only fits your needs but that is also stylish and high quality.
For all of these needs and more, you should check out Homes Direct 365.
This is a leading furniture website that has everything you need for your home in one place. There is a complete bedroom section of the website which offers everything you need in this room, from beds to closets and more.
As well as offering everything you need to buy for the bedroom, this site also offers design inspiration and has curated collections. This allows you to design the perfect bedroom for your needs and makes it easy to find what you need in one place.
Renovating your bedroom has never been easier, and this site has everything you need.
Summary
The bedroom is supposed to be a peaceful and relaxing space that is designed for rest.
However, most homeowners do not experience this because their bedrooms are neglected. As this room is private, for the most part, people are not as concerned about how their bedroom looks compared to anywhere else in the home.
If your bedroom has also been neglected, this new year is the perfect time to make changes.
You can find a great deal of high end bedroom furniture at Homes Direct 365 to redesign this space.