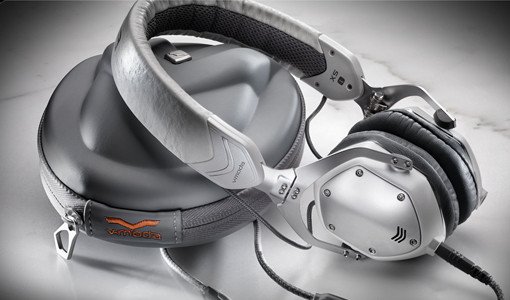 Although they're significantly smaller than V-MODA Crossfade M-100 ($260 @ Amazon.com) model, the V-Moda XS ($199 @ Amazon.com) on-ear headphones don't sacrifice anything else in terms of quality, durability, or style. Like the M-100s, the XS comes with Kevlar-reinforced cables and a protective outer shell for safe transport; the memory foam ear pads sit comfortably in place; there's a mic for phone usage; and the CLIQFOLD feature makes for easy storage.
Oh — and the sound quality is superb. You also still have the option to customize your XS's by mixing and matching the metal shield ear plates, or opting for laser engraving (both are added costs).
Also: 7 Cool Books To Read On The Can
So why not just buy the M-100s? For one, the XS's are about $100 cheaper. We can understand if DJs, movie editors, or sound engineers pay up for the larger, more expensive pair. But if you mostly wear your headphones on the go, during your commute, or to drown out the voices in your head, a less expensive and compact pair probably makes more sense.
Another big change is the headband; it's made from the same nearly indestructible SteelFlex material at the M-100s but has been tweaked to provide a more snug fit. The loose fit of the M-100s headband wasn't a universal complaint amongst our editors, but some of us here have tiny or oddly-shaped heads (if you've never seen a guy with a head shaped like a hybrid between a peanut, hexagon, and hot air balloon, you're missing out).
Also: Hairstyles For Balding Men (Like You)
Above all, if you're looking for a pair of standout headphones in the $150-$200 range, you can't go wrong with the V-Moda XS.