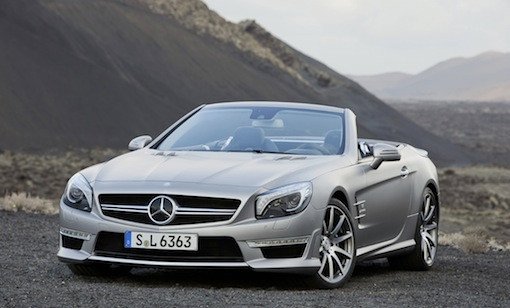 Driving the redesigned Mercedes-Benz SL 63 AMG is sort of like driving a high-performance cigarette boat — except with much better cornering abilities. For starters, it's long and sleek, boasting an additional 2 inches in length over its predecessor even though it weighs 300 fewer lbs. It's fast, thanks to its hand-built 5.5-liter, 530 hp twin-turbo V8 that churns out 590 lb.-ft. of torque. And, of course, you can feel the wind in your hair, since the SL is basically the car that invented the two-seater luxury roadster market when it first debuted back in 1954.
The sixth-generation, 2013 version has been given a ground-up redesign, the SL's first since 2003. It's built on an aluminum body shell similar to the one from the amazingly awesome — that's a technical term — SLS AMG, which accounts for the weight loss and helps the car achieve 30 percent better gas mileage than its predecessor. Power is delivered to the payment via a seven-speed automatic gearbox that directs it through the rear wheels. The car drives slow and steady through the city, and is equipped with a neat Eco Stop/Start feature that kills the engine at stoplights and restarts when you lift off the brake, just like your girlfriend's hybrid. (If you're worried about getting off the line extra quick, you can switch off Eco mode with the turn of a knob.)
Inside, everything is leather and carbon fiber, natch. We drove a matte white SL with matte black rims, a swell-looking black leather interior. To coin a cliche, it smells and drives like money, which is good, because fully optioned out the SL 63 AMG will run you close to $190,000. Speaking of, we'd especially recommend checking the $9,000 AMG Performance package option that boosts the turbo from 14.2 psi to 18.5 psi, kicks up the horsepower to 557 hp, and boosts the torque to 664 lb.-ft. That ups the top speed of 186 mph and lowers the 0-60 time to 4 seconds. Boom.