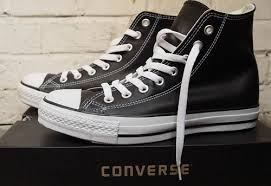 Anyone who owns a pair of old-school Chucks knows that without extra soles it feels as though you've walked on a bed of jagged pebbles the following morning. Although they look the same, the rebooted  CChuck Taylor All Star II ($75 @ Converse.com) took care of that with features like a Lunarlon sockliner for added cushioning and arch support.
Also: How To Clean Gum Off Shoes
The classic high-top ankle support you expect from an All Star shoe is enhanced with a padded tongue that won't slip around the instep as you make a cut on the court or dance a jig. What's more, a soft, perforated micro-suede lining ensures breathable comfort for your feet even when your dogs start barking. The kicks are available in about four colorways and come in low- or high-top.