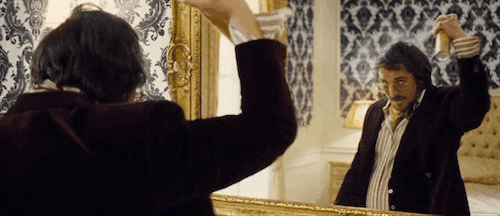 Comb-overs are certainly trending onscreen. Take Christian Bale's character from American Hustle, Irving Rosenfeld, who spends the opening scene performing an elaborate hair styling procedure — gluing fake patches of hair to his scalp and meticulously arranging his sparse real hair over fake clumps. Finish with enough hairspray to choke a small town, and you've got the look.
But do you really want to get to this point? No, you don't. There may not be a hair loss cure, but choosing the right hair growth shampoo is a good place to start. These five products, the best shampoos for men with thinning hair, will get you back on the right track.
Best Shampoos for Guys With Thinning Hair
Your hair is going to be more buff than you. Jack Black's formula pumps creatine and wheat protein into the hair shaft, increasing the thickness of each strand. "This made-for-men shampoo contains potent body-building ingredients that dive deep into each hair shaft for a volumized, full appearance," says Dr. Joel Schlessinger, board certified dermatologist and cosmetic surgeon.
Besides supplying plump strands, this hair growth shampoo is packed with white lupine, which stimulates the scalp and hair follicles to sustain healthy hair growth and minimize hair loss.