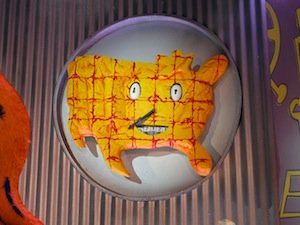 Watches, mobile phones, iPods, iPads, cable boxes, and all sorts of other gadgets display the time. So why the hell do you need a wall clock? Well, you don't necessarily need one, but you have to decorate your walls with something. And the right wall clock can actually make your pad look cooler.
But instead of going to a chain store and choosing a wall clock that'll make your home look like a dentist's waiting room, we recommend spending slightly more money to get something that only you will own. Of course, the supply of these is much lower, so they sell out faster. Which means you'd better hurry and get yours in time. Get it? Because clocks!
Bike Crank Clock ($47)
Just like the vintage watch on your wrist, expect some wear and tear on your crank (heh heh). The bike crank clock comes with a new quartz drive movement and runs on a single AA battery. It's roughly eight-and-a-half inches in diameter and offers a much better conversation piece than that ridiculous "Study Hard" poster you've been staring at since college.