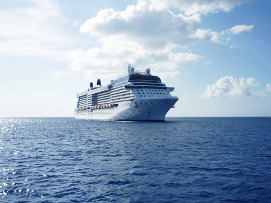 Cruises are one of the most popular ways of going on vacation. Part of the reason is that when you decide to go on a cruise, everything is included: meals, entertainment, and fun for the kids. Cruise lines go out of their way to make passengers feel like they will be safe, protected, and that they will return home feeling great from their cruise. At most, they expect to come home with a sunburn and some great stories to tell their coworkers about climbing up Chichen Itza.
However, sometimes the harsh truth of a cruise is that it can be very dangerous due to the negligence of crew members, because of the dangerous nature of some shore excursions or other aspects of cruising. While the incidence of passengers and crew dying or becoming severely injured on a cruise ship is low, they do happen.
Falling Overboard
Between 2009 and 2013, there was an average of 16 passengers and crew who died each year from falling off the ship either on purpose or by accident. One reason for going overboard is drug or alcohol intoxication. Cruise ships are notorious for having multiple bars with lots of adults mingling and having a good time. And bartenders do not cut off individuals who should be, and those passengers can risk losing their balance when trying to get back to their cabin and fall overboard. Remember, cruise ships are not on solid ground, so they have a bit of movement that can take some getting used to. This can make it difficult to walk on a ship if you're not used to it. But if you've been drinking, then your balance will be much more affected.
Illness
On average, 2,100 people suffer from gastrointestinal illness outbreaks on cruises every year. It is also estimated that at least one cruise ship has to go to port in the U.S. every year due to a gastrointestinal illness outbreak. The novel coronavirus COVID-19 made headlines in early 2020 when its spread was linked to traveling on cruise ships. The public health response to COVID-19 outbreaks on cruise ships was a disaster and led to over 700 people being infected on the British-registered Diamond Princess cruise ship. The Diamond Princess was the first cruise ship to have a major coronavirus outbreak onboard and was quarantined in Japan for a month. As a result, 14 people died. At the time, the ship accounted for more than half of the reported cases of COVID-19 outside of China.
How do I get my loved one home?
This is one of the biggest questions that people have after finding out a loved one has died on vacation. Whether or not the cruise line can offload anyone who has died will depend on where the ship is at the time, where the ship is registered, and what port it's visiting. If you have any questions, the U.S. consulate may be able to assist you.
What if my loved one died on a cruise?
If your loved one has died while on a cruise ship due to negligence, then you need to speak to a maritime personal injury lawyer. Maritime law can be complicated, but attorneys with years of success in representing clients, such as the ones at Lipcon, Margulies, Alsina & Winkelman, PA, can help you get the justice you deserve.