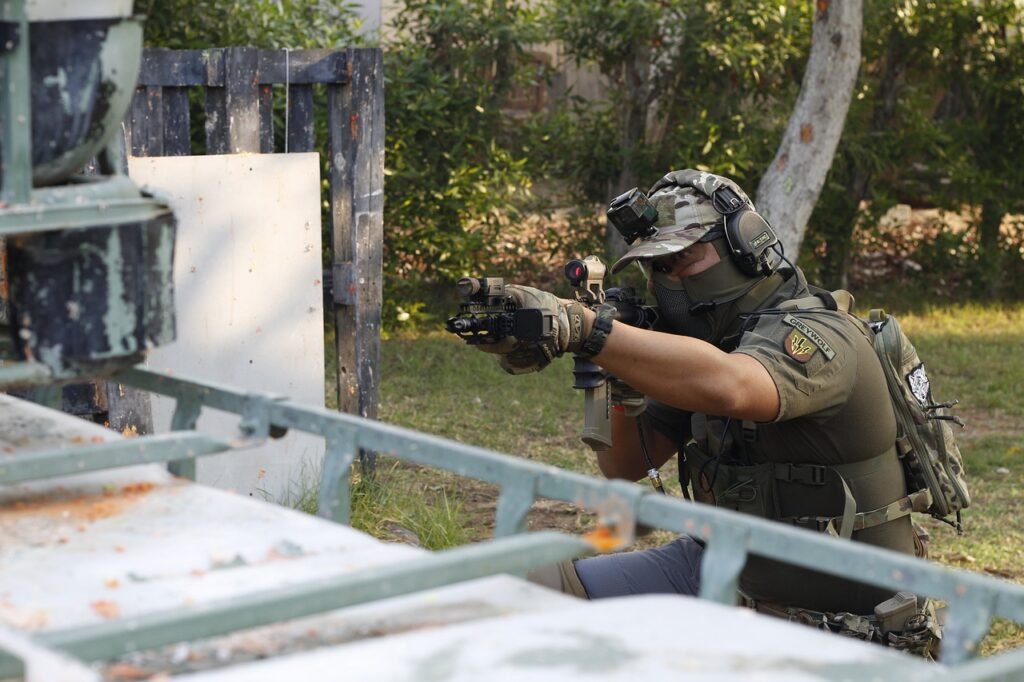 When preparing for airsoft games, it is a good idea to look a little closer at the type of replica you want to buy. The selection should be based on your preferred style of play and, most importantly, the role you play on the team. This will allow you to enjoy the highest efficiency and eliminate more opponents without any problems. A rapid-fire replica would be a good choice for both novice and veteran players. What should you pay attention to when choosing the ideal model?
Power supply plays an important role in terms of the rate of fire
There is a wide range of accessories and, above all, replicas in the world of airsoft, which will meet the needs of even the most demanding participants of the game. The choice of the ideal model should be based on your skills and preferences. A replica is a device which will accompany you during almost every game – that is why it is so important to choose the right one which provides the highest comfort of use.
Among Gunfire replicas you will find three distinctive types: spring-powered, gas-powered and electric. Each of these types features a different type of power supply, as well as a firing rate. Spring versions, as the name suggests, are based on the use of a special spring inside the replica. After each shot, you need to re-tension it. This is not an example of a rapid-fire replica, but it is extremely effective. Such a mechanism can be found, for example, in sniper rifles.
Gas versions use "compressed" power in special cans that you mount at the magazine. They are used in low and medium rapid-fire models – shotguns, but also in sniper rifles. Interestingly, a gas replica can also feature optimal firing rates. You may buy carbines, but you must remember to change the gas cans regularly. Electric models, on the other hand, run on batteries and special mechanisms. These are the versions with the fastest firing rates.
Electric replica – a good choice for beginners!
Airsoft is a game that attracts a growing number of military and survival enthusiasts, combined with fun. This is a great opportunity to spend your free time in an active way. Through airsoft, you not only cultivate your hobby, but also have the opportunity to share it with other people and make new friends. You improve your fitness and also develop useful shooting skills.
Many people just starting their airsoft adventure are faced with the challenge of choosing the right gear. The most important and difficult decision is the choice of the right replica. New participants should pay particular attention to the power supply. If you are looking for equipment with the highest firing rate – an electric replica will be a hit!
Why is it worth owning this type of replica if your focus is on the firing speed? All thanks to a special system within the replica. The mechanisms are based on the action of rechargeable batteries that eject a ball from the barrel each time the trigger is pressed. This allows you to get the highest firing rate and fire a series of shots. Moreover, electric replicas are easily adaptable and tunable in terms of performance. You may improve the performance of your equipment by installing additional features.
Additional systems and circuits to increase the effectiveness of the replica
Replicas intended for airsoft games may have built-in, additional circuits and systems, supporting the operation. This applies to equipment with almost any type of power supply. However, you can find the most modifications in electric replicas. If you care about obtaining a high firing rate and maintaining high efficiency – it is definitely worth choosing an electric version.
Gas-powered equipment, which also includes rapid-fire carbines, may also be a good choice. They are slightly less tunable, however. You must also remember to regularly replace gas cans, which are the "fuel" for the replica. First, you need to look for the Hop-Up system. It allows you to correct the trajectory of the ball shot from the barrel. It affects the effectiveness during skirmishes and increases the realism of working with weapons.
Both gas and electric replicas are usually equipped with the Blow-Back system. It is a special add-on that allows you to have a distinctive weapon recoil. It is a hit for gamers who care not only about fast shooting, but also about getting the highest feeling of realism possible. You will also find dedicated MOSFETs in electric replicas. They are only installed in battery-powered gear. The system allows you to increase the performance of the replica, as well as keep it in good shape. All thanks to a special circuit that bypasses the most delicate contacts in the circuit.