Heading out for drinks after work is great for networking in a relaxed environment. If you take a little time to choose the right outfit, you'll feel at ease and make a great impression on your colleagues at happy hour. Check out a few ways to look sharp, stylish and professional at your next get-together with people from work.
Source: Pavle Bugarski/Shutterstock.com
Things To Consider Before Putting Together Your Outfit
When choosing the perfect clothing to wear to a work happy hour, it helps to keep a few things in mind. One of those is your company's dress code. If you aren't allowed to wear ripped jeans in the office, you shouldn't wear them to a work happy hour. Fortunately, there are lots of men's jeans appropriate for this sort of event that'll have you looking casual yet professional.
Consider the restaurant or bar you're going to as well. Are you gathering in a private room at an elegant restaurant? Or are you meeting at a trendy bar down the street from the office? Knowing where you're going to meet can be very helpful in determining the tone for your clothing choices. Furthermore, the venue may have a dress code that you must keep in mind.
Another factor to consider is the fit of your clothing. Clothes can be casual without being baggy or sloppy. If you wear jeans to the event, they should be the right size and length for your frame. A blazer or jacket should have the proper fit and sleeve length. In short, make it a point to maintain the same high standards for your casual happy hour clothes as your work wardrobe.
The little details of your appearance are also essential to bear in mind. Take the time to iron your dress shirt and trousers or have them dry-cleaned. Ensure your leather loafers or other dress shoes are cleaned and polished. Take a few moments to clean your leather belt and inspect it to ensure it's in great condition. Then, combine those details with some of the outfit ideas provided below.
1. A Dress Shirt With Rolled-Up Sleeves
An outfit consisting of a dress shirt in a solid color and a pair of trousers is a simple-yet-fashionable option for a work happy hour. Rolling up the sleeves of your shirt lends it a more casual tone.
If you want to add more style, consider men's dress shirts with a subtle pattern. A pattern brings an extra element of style to your ensemble while maintaining your professional appearance.
Wear a pair of dress shoes or loafers to complete this outfit. A dark belt or one that matches your shoes is another thoughtful touch. Think about wearing an attractive gold or silver wristwatch to complete the look.
2. A Blazer and Jeans
Wearing a blazer with jeans is a great way to convey laidback style at a work happy hour. One classic color combination is a navy-blue blazer with light-blue jeans. You can expand on the blue theme by wearing a pale-blue dress shirt. Of course, a white dress shirt is always a classic choice.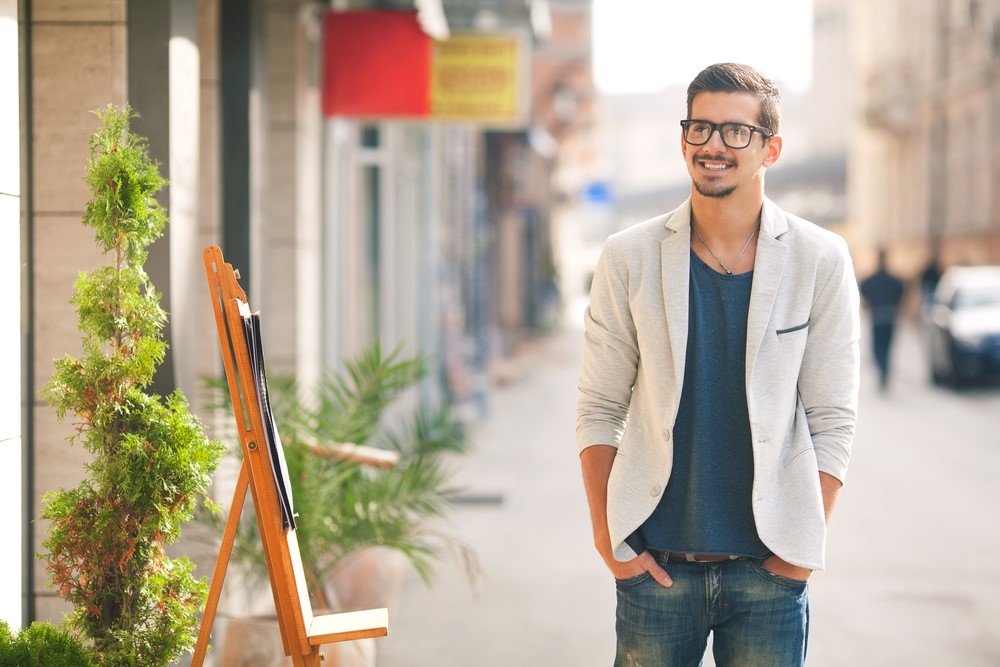 Source: bokan/Shutterstock.com
Men's blazers in solid blue or tan look fashionable paired with black or dark-blue jeans. A white or light-blue dress shirt would go well with this outfit. Think about tucking a pocket square in the breast pocket of your blazer for an extra dash of color.
A blazer featuring gray or brown plaid looks sharp with black or dark-blue jeans. It's best to choose a dress shirt in a solid color to avoid a busy look with your patterned blazer. Dark dress shoes or loafers help to keep your killer blazer in the spotlight.
3. A V-neck Sweater and Jeans
A navy V-neck sweater looks great with a white or blue dress shirt underneath it. A gray blazer makes a sharp addition to this outfit. Black jeans or dark trousers are appropriate pants to wear with his look.
4. A Turtleneck Sweater and a Blazer
A black turtleneck sweater paired with a tan blazer is a seriously stylish choice for a work happy hour. Black jeans and loafers echo the sleek appearance of the dark turtleneck.
If you prefer, pair a light-colored turtleneck with a dark blazer, such as a light-gray turtleneck with a navy-blue blazer. Once again, dark jeans or trousers go well with this look.
Drape a plaid wool scarf around your neck for a little pop of color when it's cold outside. Match a color from the scarf's plaid pattern with your turtleneck to make it flow effortlessly with the rest of your look.
5. A Polo and Blazer With Trousers
A pair of dark cotton trousers with a light-gray polo shirt creates a strong foundation for a work happy hour outfit. Add a black blazer to the picture, and the ensemble takes on a business-casual look. Black loafers are a great finishing touch for this option.
Another idea is to pair a navy-blue blazer with matching trousers. A solid polo shirt or a polo shirt with white and navy-blue stripes lightens up this look.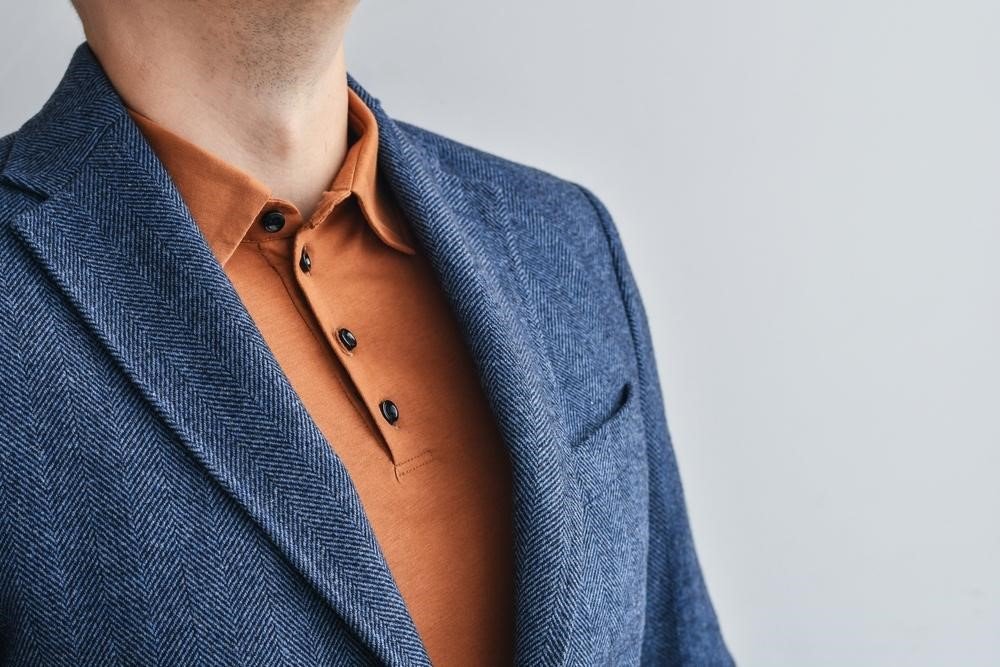 Create a Memorable Impression
Planning your outfit for a work happy hour can take some time and a bit of creativity. But the impression you make on colleagues and your boss can pay off in countless ways as you continue to achieve your career goals. What outfit will you try for your next happy hour?