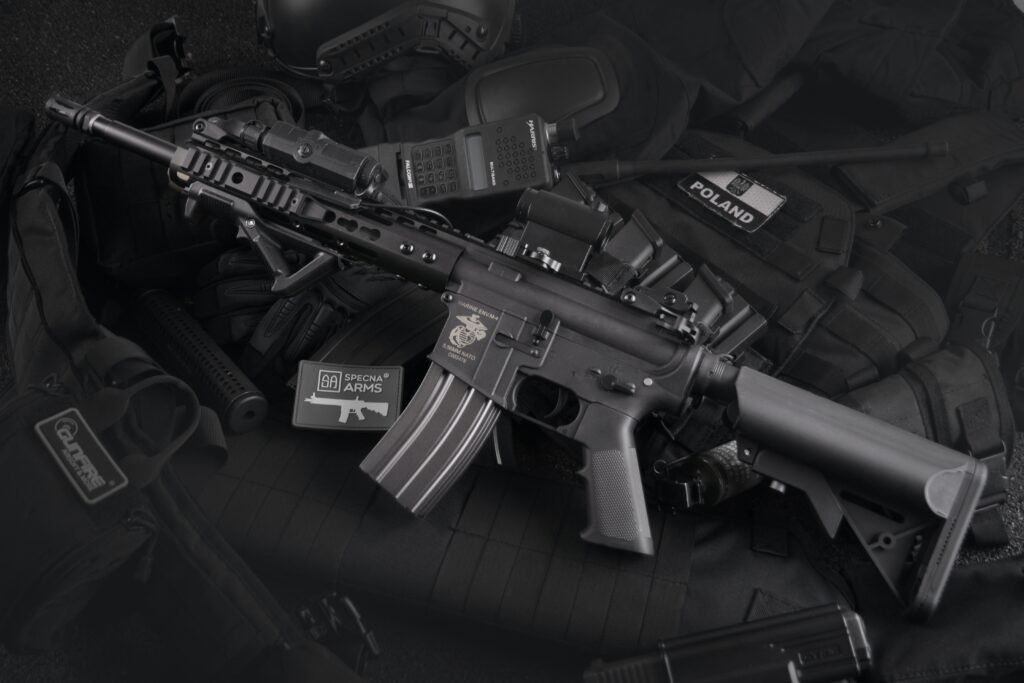 Before you buy your very first airsoft gun, it's essential to determine a few factors, including which one suits your preference, safety features, the benefits of purchasing one, and user setbacks. There are fundamental factors you need to be accustomed to.
While airsoft guns are replicas of real firearms that shoot 6-millimeter pellets, they can still pose a danger if not handled correctly or as you've intended. If you're starting to like these realistic firearms, it's best to identify which one is right for you. Above all, safety precautions should always be observed.
3 Types of Airsoft Guns To Choose From
You must be aware of your local laws, restrictions, and policies when carrying airsoft guns around. While all types of airsoft guns purchased in the US are equipped with a visible orange tip for easy identification, this is always not enough to identify a replica firearm if you reside in another region.
As an expert airsoft gun player, you've probably used various types of airsoft guns, but it's best to understand and get to know each one for newcomers. There are three kinds of airsoft guns based on individual preference, needs, and style. This list of the best Airsoft Guns from the largest retailer in the UK will help you weigh your options and get the right airsoft gun to match your unique needs or requirements for this sport.
Like most sports, you need to take along with you special gear to optimize and enjoy the game as a player. Whether beginner or newcomer, it's vital to understand the significant differences of each airsoft gun.
If you are the type of player who likes running while shooting, electric guns are your best options. Players that run pistols are familiar with the gas-powered guns, and for snipers, spring-powered airsoft guns are your best ally.
Electric Guns
Electric airsoft guns are traditionally used in almost any field worldwide. Generally, it comes with a rechargeable battery and a charger. They have selective shooting capabilities and enable you to switch from single shooting mode, semi-automatic shooting, and full auto-fire modes.
They tend to look more tactical
They can fire up to or over 500 FPS
Cost-efficient due to its rechargeable batteries
While electric guns offer convenience, there is also a known setback with this airsoft gun. You may experience lagging performance when the unit gets damp. Next is when your gun battery dies while you're in the middle of a battle, then you're done, unless you have a backup gun.
Gas-Powered Guns
This airsoft gun harnesses its power from gas to thrust down its BB to the barrel. Pistols are widely-known gas-powered guns. These guns typically shoot faster and harder compared to spring airsoft guns.
Gas-powered airsoft guns are semi-automatic, but there are also fully automatic gas guns. Gas airsoft guns use green gas or propane gas. You can also use CO2, which is ideal for pistols and rifles. However, CO2 airsoft guns tend to fire at higher FPS compared to green gas ones. Less popular types are nitrogen and HFC134a refrigerant.
Gas guns shoot more accurately, faster, and harder because of its semi-automatic shooting style
Several gas-powered guns like CO2, green gas, and others can reach a shooting speed of about 400 FPS
Gas-powered rifles can reach 400 to 500 FPS accurately
With all the benefits you can get with gas-powered airsoft guns, one major setback is it's known to malfunction when exposed to colder weather for a long time. If you run out of gas, you're also done with the game.
Spring Guns
Spring-powered airsoft guns drive BB down into the gun barrel through its spring power. It works through mechanical power, which means you need to cocked it back or set it in place using the bolt action. While they are viewed as the worst guns in the game, they are also the best for their power using the spring.
Compared to electric and gas, they are the least favorite when it comes to the field of airsoft guns.
They can also be tagged as the most powerful airsoft guns
They can fire 500 FPS or even higher quickly.
One major setback when it comes to spring airsoft guns is their manual cocking before pulling the trigger. While it's no major issue for snipers hiding somewhere, it's a significant drawback at the same time.
How To Find the Perfect Airsoft Gun For You
Choosing the right airsoft gun for you can be daunting if you don't know what and which one to select. However, you need to ask a few questions to weigh your options and decide for the best.
Ask yourself your intentions of purchasing one.
Do you prefer to learn the game and play at the airsoft battlefield or fool around?
What type of gun do you prefer?
Once you have answered these vital queries, it will be easier for you to find the right gun for your needs. Next is to determine your budget as every type comes with a more comprehensive price range. One good thing you need to remember is that the more you spend with your gun, the better the quality you can get.
Conclusion
With three fundamental types of airsoft guns available in the market and identifying each characteristic, pros, and cons, it will be easier for you to find the best gun to help you be an expert in the field. Once you have thought about your skill level and intentions of buying one, it will be a lot easier to find the best gun for your needs.