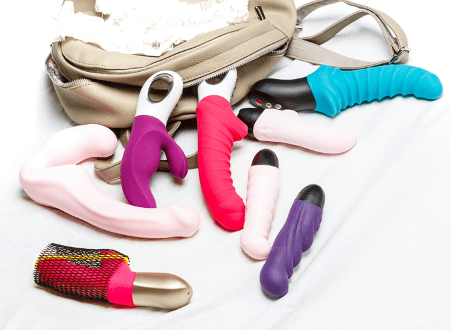 It's time to spice things up in the bedroom. If you've ever walked into a sex shop for the first time, you might have felt overwhelmed among many other things. With the sex toy market expected to reach over $52 billion dollars by 2016, it will come as no surprise that you're quite literally spoilt for choice.
Whether you're looking for a sex toy for yourself or something to spice things up between you and your partner, read on for our definitive guide to the best sex toys for beginners.
The Best Sex Toys for Beginners
From hands-free toys to multiple-attachments, there's nothing shy of variety. When it comes to choosing the best adult sex toys to begin your collection there are two main questions to get you started:
Who and what is it for?
What are you comfortable with?
We shall leave 'King Dong' and the 'foxtail buttplug' alone for now. They can always be something to look forward to!
Mini Bullet
The mini bullet vibrator is usually no bigger than your average lipstick, making it the ultimate in discreet vibrators. In fact, you'll no doubt come across some disguised as lipstick! With different vibration modes at the touch of a button, the mini bullet is a pocket-sized essential for anyone looking for a discreet, mind-blowing clitoral orgasm.
The Magic Wand
Magic Wands come in many sizes, and whilst they might be sometimes advertised as full-body massagers, if we're being honest, they're by far the ultimate clitoral stimulation tool. When it comes to powerful mind-blowing orgasms, the magic wand can do for you what Harry Potter never will.   
The Rabbit
The rabbit is a classic, and for good reason. It combines penetration with vibration and clitoral stimulation. Most rabbits will allow you to cycle through 12 speeds at the touch of a button, and these days you can charge them off your computer's USB port!
The Suction Cup Dildo
It's a very straight forward concept, but not to be ignored. Its a dildo with a suction cup at the bottom of it so you can stick it to any non-porous surface. The main benefit of this is – yes, you've guessed it – both your hands are free. Great for the shower!
Vibrating Cock Ring
Our first sex toy on the list intended for use by couples is the vibrating cock ring. Not only will a cock-ring help him get bigger, harder, and even more sensitive, but the vibrating aspect of it means amazing clitoral stimulation for you during intercourse.
Restraints
Restraints come in many shapes and sizes. Satin ties and blindfolds to handcuffs, ankle cuffs, and full-body restraints. It all depends on what you're comfortable with. If you want to add a little '50 shades' to your love life then restraints are the way to go.
Time to Spice Things up!
That concludes our guide to the best sex toys for beginners. The only way to find out what works for you is to try them. Sex toys have become massively affordable, and most retailers offer beginner's kits for solo use and for couples. Take advantage of next-day delivery and open your bedroom doors to a whole new world!
Be sure to check out the rest of our site for more on how to spice up your sex life and other dating tips.