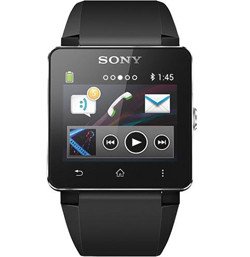 Watches are like shoes — you usually get what you pay for. A poor quality watch will die the first time it gets a little wet or banged around. Solid sport watches, however, can literally get run over by a car and keep right on ticking.
Also: 6 Cool Messenger Bags For Guys
Guys often prefer sport watches because of their extensive list of features. Besides taking a beating, they can function as stop watches and alarms, as well as display the normal time in a sporting fashion. We've put together this little list of the best sport watches for men at every price point — so even if you can't spend half your week's paycheck, you can still brandish your wrist with pride.
Pictured top: #1: Sony Smart Watch ($105 @ Amazon.com)
Way more than a watch: sunlight readable, touch/swipe, water resistant, photo to watch via Bluetooth. Take calls, message friends, listen to music, check sports scores.
#2. Made in the USA! USA! USA! The Timex Expedition Trail Series Digital Compass ($65 @ Amazon.com) was built for the trail. Whether you're running, hiking, or hiding out due to the zombie apocalypse, the Indiglo light (with night mode) an digital compass will allow you to know your location. Other perks: it's shock and water-resistant.
NEXT: INVICTA's PYTHON