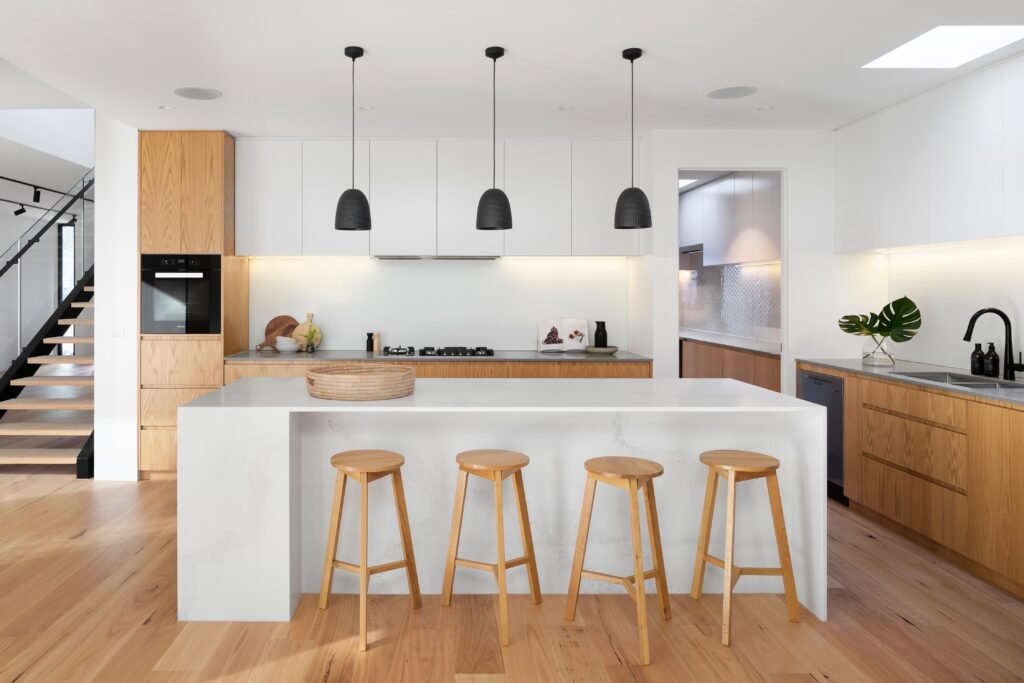 Your kitchen should be at the top of your renovating wishlist if you want to enhance your house and cooking skills. According to studies, over 95% of Americans prefer to cook at home rather than depending on takeaways and other methods.
So, your kitchen needs to be appealing and valuable so that you may cook whenever you want and with ease. Also, the environment must radiate a pleasant atmosphere because your moods influence the food you serve.
You can easily remodel your kitchen within the budget by opting for appropriate designs and themes. Here are a few easy-to-implement and budget-friendly ideas for updating your kitchen.
Modify the lighting
Most of the kitchen uses standard lighting. Even though this type of lighting is functional, it does not add aesthetic value to your kitchen. If your kitchen is older, one of the main reasons it feels antiquated is the lighting. Hence, it is time to brighten it up with new lighting.
In addition, many kitchens will only have one light source, so hanging pendant lights over the bar or sink will lighten it up and add character. Finally, you can choose different lights to highlight separate kitchen areas. So, if you plan to replace the old dullness with sparkling interiors, get new and modern lights for your kitchen.
Change the flooring
You can choose a new flooring to break the monotonous and boring kitchen look. There are several durable and timeless options like wood, tile, or stone. Look for something that is easy-to-maintain and in-trend. It needs to add value to your house while going along with the overall design.
Update the hardware
All of the small details, from hinges and handles to tapware and wastes, can significantly impact the overall look of your room. You can add new knobs and handles to give your cabinetry a modern makeover. Install some glamorous new tapware in your kitchen sink to give it a whole new look.
Save money on storage
Keep your sauces, essential spices, salad bowls, and other basics adequately organized in a handy pantry, kitchen cabinet, or open storage unit. A freestanding pantry unit is excellent for those who prefer everything out on the show and within easy reach, with shelves and compartments to keep things organized. In contrast, a buffet cabinet or open shelving unit is ideal for those who prefer everything out on display and within easy reach.
A coat of paint
Painting your old cabinets is a fantastic and economical choice. Suppose you plan to cover obsolete and dull-colored cabinets, then use bright colors. Surprisingly, a splash of paint can make your old cabinets look brand new.
Add a splashback
Cooking, washing, and preparing food requires a hard-wearing and easy-to-clean surface. A tiled splashback is the most durable finish available. You can choose the most suitable splashback from the many options available in the market.
Use wallpaper
The trend of incorporating wallpaper into our homes is showing no signs of slowing down. So you can think of ways to employ this versatile decoration item in your kitchen.
You can also add a theme to your kitchen through this low-cost method by selecting the appropriate color, pattern, art, and style. Alternatively, splurge on a high-end or imported design in a small area to get the most of your renovation money.
Time for new furniture
Suppose all of the above sounds like too much work. In that case, your best chance might be to go to a furniture store or shop online and get a new table and chairs, bar stool, sideboard, French dresser, and some new crockery.
These can all help to liven up and refresh a tired space without taking as much time or effort as repainting, resurfacing, or re-flooring.
Get energy-efficient appliances
Replacing your outdated cooking appliances is an efficient option to upgrade your kitchen and make your life easier. In addition, you can revolutionize your kitchen with user-friendly and energy-efficient gadgets. These new gadgets will give a contemporary appearance while conserving the environment and your wallet.
Add a small splash of color
Colour brings life to a dull space. A few accents of this vital component may radically transform the look of your kitchen. The best way to add color is by keeping the significant elements neutral and adding bright touches to staging.
For example, you can add colorful posters, cookbooks, chalk-wall, bar stools, colored jars, wall decor, and other decorative pieces. These items add character to your kitchen while also giving it cozy vibes. In addition, these minor items are easily replaceable once you get bored of them.