The BMW 3 Series is the benchmark by which pretty much all other sport sedans are measured for a reason … well, for several reasons, actually. They're fun to drive. They're well-appointed. They're priced such that mere mortals (albeit successful mere mortals) are able to afford them. And that's just to name a few.
All of which is to say, it's a big deal when BMW redesigns the car. And so before updating the 3 Series, the clever suits in Munich clearly made a cagey decision: To make the car better. And so the sixth-generation 3 Series has been made faster, more fuel-efficient, and if we do say so ourselves, better looking.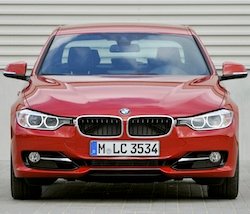 It's also considerably larger thanks to a wider track, a wheelbase that's 2 inches longer, and a total length increased by a whopping 3.66 inches. To pull the new mass it's cultivated, the 3 Series has been gifted with a new engine on the 328i. Gone is the famed inline six and in its place is an all-new and more powerful turbocharged 2.0-liter four-cylinder power plant that churns out 240 hp and 260 lb.-ft. of torque — both impressive bumps for the 328i. For those that want more power, the 335i has a turbocharged 3.0-liter six-cylinder engine that makes 300 hp and 300 lb.-ft. of torque. Boom.
Both the 328i and the 335i are offered with your choice of a new eight-speed automatic gearbox or a six-speed manual, and in a Sport Line, Luxury Line, Modern Line, and M Sport package. (The M Sport package on a 3 Series is different than a BMW M3.) Each have their own distinct trim, wheels, etc. We like the Modern the best. Obviously.
So, how do they drive? We hopped behind the wheel to put the cars through their paces on both the track and the street and … they're awesome, whether despite of or because of the larger size. We loved the 328i Sport Line and its six-speed manual tranny; the inline-four and its turbo were nonstop fun. At the same time, the loaded 335i with the eight-speed automatic was really fast on the track, but would also make life considerably less miserable while stuck in traffic on a daily commute.
The 328i starts at $34,900; the 335i at $42,400.