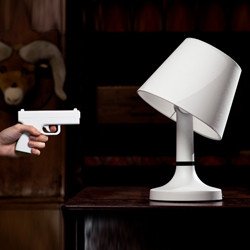 blow! Lamp ($300)
Think of the BANG! lamp as a much, much cooler version of the Clapper. Instead of clapping your hands like a dope, you use a remote-control pistol to turn the light on and off. When you want to kill the light — see what we did there? — pull the trigger and the lampshade shifts to one side or another, like you winged it with a bullet. Pop another imaginary cap into it to flip it back on.
WIN IT: To win your own BANG! Lamp, answer this question in the comments section at the end of this story: What made you the most afraid of the dark when you were a kid?
You have until December 25 at 11:59pm to enter. Good luck!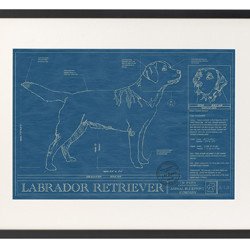 2012 Holiday Gift GuideDog Blueprints ($185)
You need more artwork in your place. (We've been spying, sorry.) Instead of framing yet another photo of yourself doing a beer bong, why not give your dog some props? These Dog Blueprints will gussy up your wall while dropping some knowledge about your dog's breed — size, coat, color, history, etc. Each blueprint is a museum-grade digital print and is displayed on archival paper. All frames are black. Dimensions: 19″ H x 25″ W x 1″ D.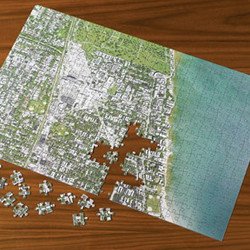 Personalized Satellite Map Puzzle ($50)
Anyone who tells you puzzles are for nerds deserves coal in their stocking. And these personalized puzzles are especially cool because they're personalized (hence the name). Just provide an address and the factory will send you a 400-piece puzzle made from a photo taken from 7,500 feet above your house. The display area covers 1 1/2 miles east and west, and one mile north and south. Hopefully your hairy neighbor remembered to close his blinds.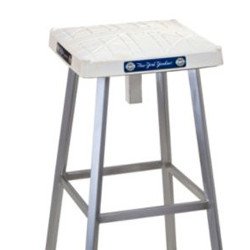 MLB Game-Used Barstool ($950.00)
Made from actual game-used bases, these handcrafted barstools are so cool they'll nearly make you forget your dream of making millions as a pro ball player ain't coming true. Best of all, you can choose a base used at the stadium of any of the 30 Major League Baseball teams. And the barstool's steel frame will keep you sturdy even if you've had one too many while watching the Mets lose another heartbreaker.  
Click and Grow ($60)
Plants add atmosphere to a room and let women know that you're a responsible guy who can nurture things … assuming the plants aren't brown and dead. The Click and Grow makes sure that doesn't happen by delivering the proper amount of air, water, and fertilizer to your plants without you having to do much of anything. Your two jobs: insert four AA batteries and fill the water reservoir every so often. Seriously, that's it.