If you have access to a garage right now and it's a vacant collection of old oil stains and broken furniture clutter, we'd like to ask you a serious question: Um, what the hell is wrong with you? If you own the home, a nonfunctioning eyesore isn't adding value and most likely won't help you sell the house faster.
In the meantime, gussying up your garage can provide a place to take a breather from the wife and kids, or a spot that they can scuttle to when you roam the house in your tighty whities.
Not sure where to start? We've come up with a handful of ideas – good ideas! — for you to transform your lame garage into one that's worthwhile.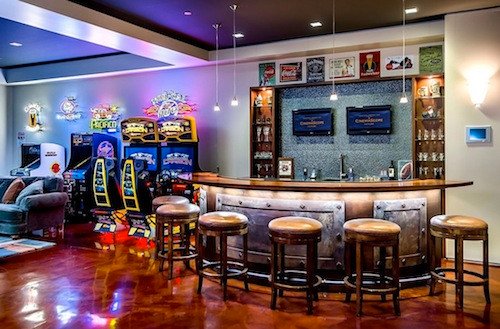 Game Room
Notice how we didn't call it a mancave? You shouldn't either. It's a dumb term that should be extinct. Anyway, If you want an extra space for things like a stocked bar, pool or ping-pong table, darts, air hockey, etc. toss it in here instead of the basement. If you have kids it'll put the noise elsewhere (read: not in your ear). However, when they get older you'll have to scope out the digs more often so they don't turn the game room into the orgy room.
Cut down on costs and look to places like Costco, TigerDirect, and even Groupon for deals on TVs and other goods. Amazon.com has a warehouse section for clearances and outlets as well.
If you're going to take the game room route, you should probably consider adding the home theater as well. Think of it as the last piece to the puzzle, but if you have a TV in your living room, why not go all out for the garage revamp? You can find theater-style seating for roughly $300 a pop, while the HD projector will run you about $200+, and the screen about $500 or so. All told, without lighting, budget out $1,500.
Next: GUEST ROOM & HOME GYM