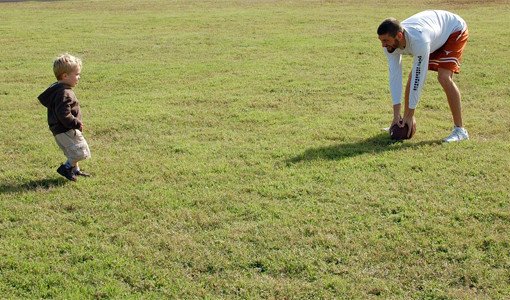 There are times when you want your hotel to have a well-appointed business center, a high-end spa, and sandalwood shaving cream in the bathroom. And then there are times when you just want your hotel to have amenities that will endlessly entertain your kids … and, ideally, you. So whether you're on vacation with your family or just trying to relive some of your own misspent childhood, these five resorts deliver in the form of fun activities every kid — and former kid — will love.

Atlantis | Paradise Island, Bahamas
You can get your Jacques Cousteau on at this sprawling beach-front resort thanks to great marine-focused experiences: Interact with dolphins in shallow or deep water, or be a dolphin trainer for a day; get up-close and personal with sea lions and stingrays; and snorkel in the Atlantis lagoon amongst 20,000 deep-reef and pelagic — that means open-sea, Jacques — fish. There's also a water park with a 120-foot inner-tube slide, a five-story corkscrew thrill ride, and a near-vertical-drop body slide.

Walt Disney's Animal Kingdom Lodge | Orlando, Florida
Looking to go on safari? Then think about heading to Florida, which is far closer than Africa and somewhat less dangerous. At the Lodge, you can book a room overlooking the savanna wildlife preserve surrounding the thatched-roof resort, where you'll spot zebras and giraffes from your balcony. Or get even closer by going on the Wild Africa Trek, during which you'll hike trails and spot elephants, rhinos, and other exotic animals. Your kids will no doubt be eager to cross the swinging bridge hanging over a swamp teeming with hippos and crocodiles, which means you can't wuss out.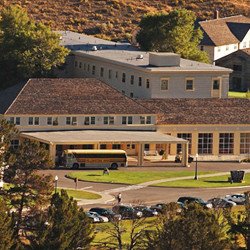 Mammoth Hot Springs Hotel and Cabins | Yellowstone, Wyoming
Accessible through the north entrance of Yellowstone, this rustic Western lodge, which offers up budget-friendly suites complete with hot tubs, is the perfect base camp for a Wild West excursion through the nation's first national park. Take a guided horseback trail ride through sagebrush flats, pine forest, and Cascade Canyon. Or hop on an old-fashioned stagecoach that stops for an authentic Old West cookout. After chowing down on baked beans and steak cooked over an open campfire, everyone sings under the stars, lead by a singin' cowboy. But please don't yell out "Free Bird!"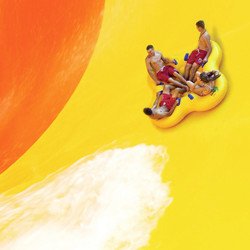 Great Wolf Lodge | Wisconsin Dells, Wisconsin
You can huddle up at night in the bear-and-wolf-themed suites and condos at this family focused resort — but when the sun rises, it's time to have some fun. You can hit the water park featuring a six-story funnel, cruise around a four-story tree house complete with suspension bridges, cargo nets, and slides; zoom down a 200-foot slide in an inner tube; and hurl head-first down a four-story competition slide.

Resort at Squaw Creek | Squaw Valley, Lake Tahoe, California
This ski-in/ski-out luxury lodge features 4,000 acres of world-class ski terrain and a base snow depth of up to 12 feet. If you don't want to simply push the kids down a triple black diamond, you can send them to the 12,000-square-foot children's center that boasts a pony tow and skiing/snowboarding programs. Had enough skiing and snowboarding? There are plenty of fireplaces to sip warm cocoa in front of, but there's also plenty of snowshoeing, sledding, snowmobiling, dog-sledding rides, sleigh rides, broomball, and outdoor ice-skating with panoramic views of the Sierra Nevadas.

Get more kid-friendly vacation recommendations just for your family at MiniTime.com. Or check out the best hotels in Minneapolis if you want to expand your search further!