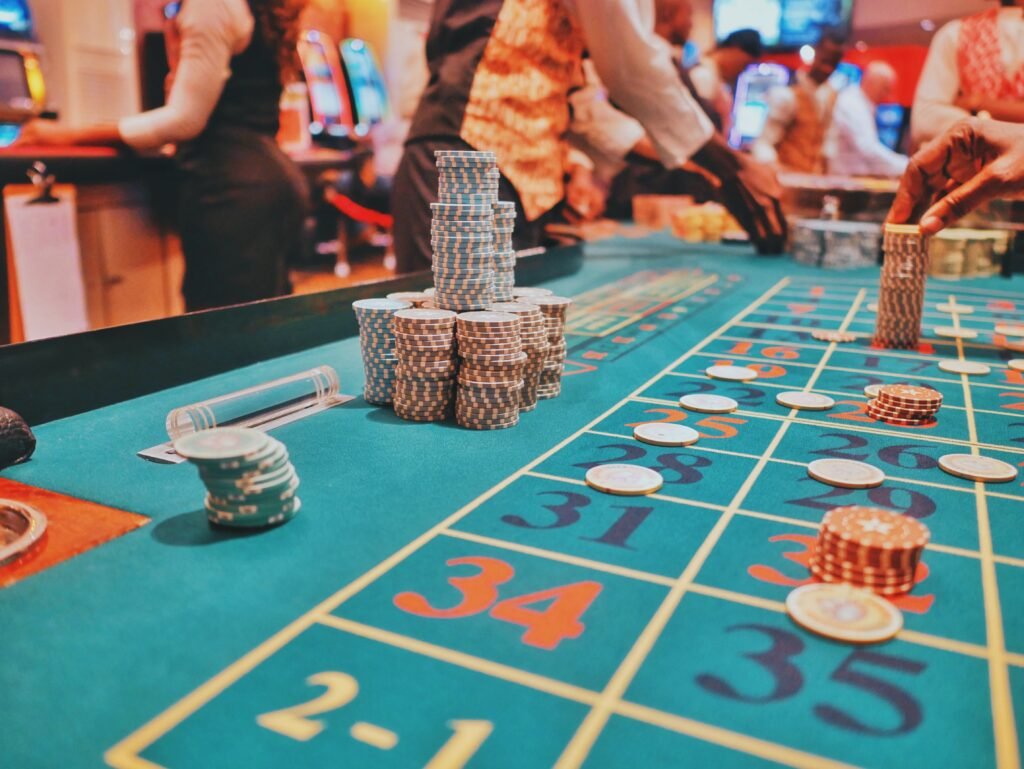 Introduction
Being historically considered the dens of dreamers and unsavory individuals, casinos show up often in movies. Whether they represent a happy-go-lucky getaway or something more sinister, a house full of games and cash is an interesting prospect for any scriptwriter when setting their scene.
As is common with the movie industry, the authenticity of these scenes vary. If you're interested in getting involved with casinos, you want to go in with the right perspective. That's why we've gathered five of the best scenes that depict casinos closer to how they actually are.
Remember that you can experience casinos without even leaving the comfort of your own home – through online casinos. With these, your living room can become your own casino.
Croupier
First released in 1998, Croupier is a neo-noir movie that focuses on a perspective of casinos that isn't typically depicted in film – the dealers. It follows Clive Owen's protagonist, who becomes a croupier and becomes drawn into the world of casino gambling. It explores how the croupier feels watching people lose, an interesting tidbit about how somebody's mind is shaped by watching dreams live and die at their gambling tables.
Like many movies in this list, it takes the inevitable turn toward the criminal when the croupier is recruited for a casino robbery. That's the unrealistic part, we wouldn't advise you to try that. It has lots of depictions of the interior of casinos and how certain games are played, from a side of the table that isn't often explored.
The Gambler (1974)
Released in 1974, The Gambler follows a professor, played by James Caan, who gets addicted to gambling and falling into trouble with loan sharks. While the more realistic parts of it are where older guys are shown playing cards wherever they can, not just at the sanitary tables of casinos, it's also useful to have movies that show the potential downsides of gambling instead of glamorizing it all the time.
While the movie dabbles with criminal elements, as is often the case, it also explores some of the toxic mindsets that gamblers can fall into – chasing excitement and emotional highs instead of results.
Casino Royale (2006)
For a Bond movie, and the start of Daniel Craig's long-running tenure as 007, the modern retelling of Casino Royale has many muted scenes where Bond faces Mads Mikkelsen's Le Chiffre at poker, among other villainous individuals. It's not all impractical suit fighting and explosions and the medium of poker is used to drive tension between the protagonist and his antagonist well.
The Montenegro sequence between Bond and Le Chiffre is typically considered best if a little rich for our blood when the pair put millions on the line. The tension that comes from that is palpable, a familiar feeling for poker players that's ramped up to 111. While any viewer can pick up that tension, you lose an integral part of the movie if you can't follow their game and the moves being made.
The Gambler (2014)
Based on the screenplay of the 1974 movie we've already mentioned above, this movie follows a new character, a professor played by Mark Wahlberg, who also ends up owing money in the LA gambling scene. While it's mired in the criminality and seediness of the original, blackjack fans are treated to a more authentic casino scene where the protagonist tries to win ,000 through the fast-paced card game.
While the stakes are high and the tension is ramped up by the fact Wahlberg's amateur gambling addict is up against a pro, it's also a more realistic depiction of blackjack. Everything comes down to a roulette spin too, so there's something for everybody. It also has a more uplifting ending than the 1974 movie.
Rounders
Rounders didn't receive much fanfare when it was released in 1998 but has since become a cult classic among poker players during the 2000s, where poker boomed in popularity. It focuses on, well, a rounder, played by Matt Damon. A rounder is somebody moving around looking for high-stakes card games, and this inevitably ends up in criminal territory – because that's Hollywood.
The movie focuses on poker itself more than many mainstream hits, so it isn't often used as a proxy for some other grand battle in the same way Casino Royale does. The final scene is the most well-known. It lacks a distracting score and simply shows the game being played, ramping up the tension for those who know what's going on.