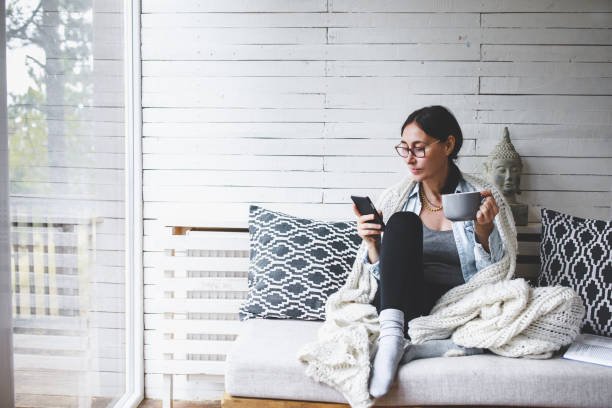 Having the perfect home outfit can make all the difference when looking and feeling your best. Whether lounging around the house or getting ready for a Zoom meeting, you want to look put-together and comfortable. Here are five tips to help you create the perfect home outfit: from considering textures to online stores. With these ideas, you can achieve a stylish look that will keep you comfortable at home.
Home Outfit Basics
The perfect home outfit can consist of a combination of flattering items and is comfortable enough to wear all day. Whether you prefer classic styles or more fashion-forward pieces, there are plenty of stylish options.
For those who like to keep their style up-to-date, visit Versace website category dedicated to bath robes and dressing gowns for a great start. They have an entire category dedicated specifically to bath robes and dressing gowns! These luxurious designs come in various prints and styles that will leave you feeling fancy even when snuggled up at home. With intricate details and sumptuous fabrics, these items are both practical and fashionable – the perfect addition to any wardrobe!
Tip 1: Comfort First
Comfort is key to creating the perfect home outfit. Whether relaxing on the couch or getting things done around the house, comfort should be your priority. Choose soft fabrics against your skin and don't constrict movements, like cotton blends, jersey knits, and French terry fabrics. Avoid tight clothing and choose looser silhouettes that are easy to move in but still stylish. Think joggers with a tee shirt or a sweatshirt dress with leggings for an effortless look. When selecting shoes, think of slippers or cozy sneakers for comfort and ease of movement throughout the day. With these tips in mind, you can create relaxed yet fashionable home outfits without sacrificing comfort for style!
Tip 2: Accessorize Right
An outfit is incomplete without the right accessories to complete it. Consider these helpful tips to ensure your home outfit looks polished and put together. Start by considering the occasion for which you are dressing up – if you're attending a virtual meeting or video call, then you can keep your accessories simple, like a pair of stud earrings and a bracelet. For casual occasions like family dinners or movie nights, try adding a statement necklace or scarf with vibrant colors that will help add some interest to your look. Avoid going overboard with too many jewelry pieces, as they can distract from the actual outfit and detract from its impact. Instead, focus on one item that stands out against your ensemble and simultaneously makes it look stylish yet comfortable.
Tip 3: Choose Quality Materials
When it comes to creating the perfect home outfit, quality materials are key. The right fabric can make all the difference in how your outfit looks and feels, so take the time to choose quality materials for a truly cozy look. Whether you're shopping for slippers, sweaters, or loungewear, always look for soft and comfortable fabrics. If shopping in-store isn't an option, read online reviews from other customers who have tried the product before buying. Quality materials will not only last longer but also help create a more stylish look that you'll love wearing every day! Look for natural fabrics like cotton or linen, which will be breathable and lightweight on hot summer days. For colder months, wear wool or cashmere to stay warm and stylish indoors.
Tip 4: Make It Look Put Together
Start by picking out an outfit that fits your shape and size – something that flatters your body and suits your style. Choose fabrics that are lightweight and breathable so you can move around freely while looking chic at the same time. Then, add accessories like jewelry or a scarf to complete the look. Make sure they reflect your personality and go well with your clothes; no one wants an over-the-top ensemble when lounging around in their own home.
Tip 5: Incorporate Your Style
For those looking to make their home outfits more stylish, tip five is all about incorporating personal style. To make the perfect outfit, start with a basic foundation like a t-shirt or dress and experiment with different pieces to add flair. Try accessorizing with statement necklaces, earrings, or bangles to draw attention to your face or décolletage. Another way to incorporate personality into an outfit is by playing around with fun colors and patterns such as stripes or polka dots.
Think about what style speaks to you daily; this could be classic, girly, minimalistic, tomboyish – whatever works best for you! If you've wanted to try out a trend but weren't sure how it would work in everyday life, now is the time!