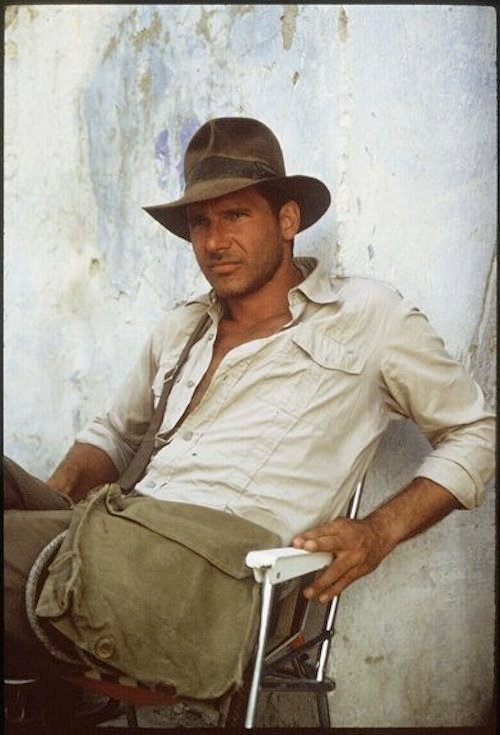 We don't care how cool or tough or manly Indiana Jones was in every film save Kingdom of the Crystal Skull — we're not into carrying a man purse. We're sticking with a wallet. And, much like your watch, your wallet says something about you. You can go with a minimalist wallet option, or you can stash whatever you can in your wallet and go with a trifold — doesn't matter so long as it suits your personality. That said, some guys prefer to put more of their personality on display. We found a handful of super-cool utility badass wallets that'll do just that (yes, that includes a Pulp Fiction wallet). Some will not doubt make you cough up a bit more money, but others won't, such as  …
Cool Badass Wallets for Guys
Pictured: Iain Sinclair's CardSharp 2 ($4) is super cheap and weighs 13 grams and has a compact, waterproof design that fits into your wallet when the blade is docked (when folded it's just 2.2-millimeters thick — the same size as your Amex card).

"It's the one that says 'Bad Motherfucker'" – Jules Winnfield, Pulp Fiction
As soon as Samuel L. Jackson uttered those words in Quentin Tarantino's Pulp Fiction, the audience went crazy. The wallet that says 'Bad Motherfucker' — aka the Bad Mother F wallet — is a piece of pop culture on its own – seriously almost as much as the damn movie itself. I simply couldn't avoid this one. While you can find it on Amazon, there's also a much better, handmade, version of is available at Custom Made.

As cute as the name sounds, the Card Caddy from Hitch & Timber is really a badass way to carry your cash and small practical items in one place. Organizing EDC (Every Day Carry) gear and having all that stuff on the go is often damnably challenging thing, and can be quite frustrating. Think about it: the last time you shoved your hands into your pockets to find your keys, or pocket-knife or swiss knife, while at the same time you have rolled up dollar bills crammed in there as well. It can all be a mess and a waste of valuable time. Hand crafted here in the USA, the Hitch & Timber gets you the most practical and well-organized solution to all of the abovementioned problems. So, basically, you can put a pocket knife and pen into this wallet, in addition to packing up your cards and cash. From what the manufacturer states, the EDC Card Caddy easily accommodates up to 6 credit cards. The cool wallet for men is a dedicated slot is available, where you can stash a smaller pocket knife or a preferable multi-tool. On top of that, there's a sleeve for a tiny ballpoint pen. Pretty awesome, actually.

Words fail me with this one. Take a look at this … wallet? Money clip? Futuristic money-carrying device!? What is it!??!
Looking for an easy way to carry tiny things around (including cash and cards)? Well, the Edwin Wallet just screams 'simplicity'. Not only does the steel casing provide isolation for your money and cards, but it also allows you to access any of these items swiftly and with no hassle at all. There's a dandy little stem places your little cash into the security of the latch arm. If you can believe it, the wallet actually has only two parts. As I've already said: simple. Man, not just that, but the cute little thing costs less than 35 bucks.

Here's one bad boy for ya. The black, brown or sunburst leather-made chain-style biker wallet features chrome plated brass and looks pretty mean. However, as you can see, you're gonna have to dish out a bit more cash to, well, store your cash. In short, you wanna be a badass? It'll cost you a bit more, but hey, just look at that thing. It's fucking badass. Just in case, you're wondering, you are very welcome to choose one of the various design options: Dilligaf Shooting Skull, Wicked Skull, Skulls with Roses, Skeleton Cigarette, Skull Cobras, Skull Cross Bones and Skull Guitars. Or you can go for the 'no design' option.
Also from Wicket Skulls … Chain Wallet Nautical – Biker Wallet, Navy Wallet, Traditional Tattoo Wallet ($175)
Again, I'm sure you're wondering why the steep price tag. It's obvious really. This is a custom made leather biker wallet, that features 2 long cash pockets and an additional 6 pockets to store your credit cards. The absolutely gorgeous art on the wallet exterior was also hand made, and it gives the wallet a truly unique appearance. There's a place where you can stash your ID, and you'll also get a slim zippered pocked. Oh yeah, and there's a chain – it's a biker wallet, so I guess that goes without saying.
Yeah, so the application isn't as badass as the name, but it's still super useful. All it is is a super stretchy adhesive that you stick on the back of a phone or phone case. For quick trips out you can also get a phone case that enables you to slip a few cards, a bill or two, and your license into the back of it, successfully eliminating the need for a full wallet.
Now that you know a little more about the best wallets for men, it's time to make your decision. With so many great options on the market, it can be tough to choose just one. But if you keep in mind the things we discussed in this article, such as size, materials, and features, you should have no problem finding the perfect wallet for you. Thanks for reading and good luck!