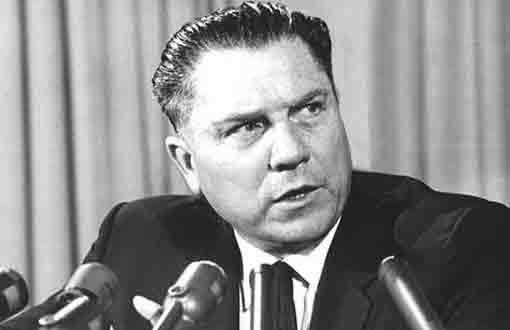 On July 30, 1975, former Teamsters President Jimmy Hoffa went to lunch in Bloomfield Hills, Michigan. He was never heard from again. Police doubt he ate himself to death — Hoffa's portion control was legendary — but they aren't sure what did happen to him; his body was never recovered, and he was declared legally dead seven years later.
There has been plenty of speculation about what happened to Hoffa, and where he might be found. Some people suspect it was a government faction, angry that President Nixon pardoned Hoffa, who did him in. Others assume the mob put a hit out on him. While there have been lots of people with theories, and almost just as many people who've come forth and given the location of his body, there's never been an actual body found.
The latest person to claim he knows where Hoffa is buried is 85-year-old Anthony Zerilli, who recently got done serving eight years on racketeering and extortion charges. Looking to make a buck, he contacted a reporter and gave him the (alleged) whereabouts of one James Riddle Hoffa. According to Zerilli, the body can be found in a shallow grave in a field in northern Oakland County, Michigan. We're sure cops will get their shovels out and look, so we'll eventually know for sure whether or not it's bullshit. But for now, we're lumping that story in with this ever-growing list of places Hoffa's body supposedly was dumped …

#1. Under a Driveway in Roseville, Michigan
An informant told coppers that he witnessed mafia member Tony Giacalone stay up all night mixing concrete for his driveway on the day Hoffa went missing, and that a body could be found under the driveway. Thing is, the rat never said the body would belong to Hoffa — he just said it'd be a body. Either way, the whistle-blower was lying; the soil samples retrieved in 2012 found no trace of human remains.
#2. In The Florida Everglades
In 1985 a former hitman told a newspaper reporter that Hoffa was shot with a stun gun, shoved into a steel drum, and dumped in the swamps of the Florida Everglades. Some versions of the story say Hoffa's body was ground up and fed to alligators.
#3. At a Horse Farm Near Detroit
In 2006, after the feds coughed up $250,000 to dig around and demolish a horse barn 30 miles outside of Bloomfield Hills, their search yielded no credible evidence that Hoffa was there. They did, however, unearth some pretty cool arrowheads. So, money well spent!