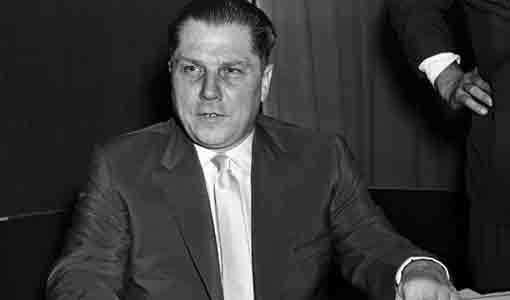 #4. Under the Floor of Frank Sheeran's House
Frank "The Irishman" Sheeran, a former Pennsylvania Teamster official, told his biographer that he was the triggerman who killed Hoffa in 1975. He says he lured Hoffa into a house in a Detroit suburb and put two bullets into the back of his head. In 2004, cops took his word for it and peeled up floorboards inside of the house. They found blood … but it wasn't Hoffa's.
#5. In One of The Great Lakes
It wasn't Union bosses or pissed-off mob muscle that killed Hoffa, according to the 1989 book Hoffa's Man. The two guys who wrote it — a New York Times reporter and an ex-Hoffa strong-arm — say two federal agents abducted Hoffa, took him up in a small pane, and pushed him out over one of the Great Lakes.
#6. Under Giants Stadium
Convicted mob enforcer Don "Tony the Greek" Frankos claims that Hoffa was shot and dismembered by New York mobster Jimmy Coonan and fellow mob-bro John Sullivan. Then the two gents bagged up the body parts and buried them in the old Giants Stadium in New Jersey. There were various points of interest within the stadium that were rumored to contain Hoffa's remains — the end zones, near the 50 yard line, inside Section 107, under a mysterious bump at the 10 yard line. But according to the Mythbusters, who ran radar over those places, there's just nothing there.
#7. In a Fat-Burning Plant
Scott Burnstein, a self-proclaimed Detroit mob expert, believes Hoffa's body was incinerated at a mob-owned fat-rendering facility in the city. Why does he think that? After Hoffa disappeared, the plant burned down.