Kayak fishing is becoming more popular because of the comfort and safety it provides anglers. Whether an experienced or newbie angler, you'll find that a fishing kayak allows you to cruise the waters faster while catching fish.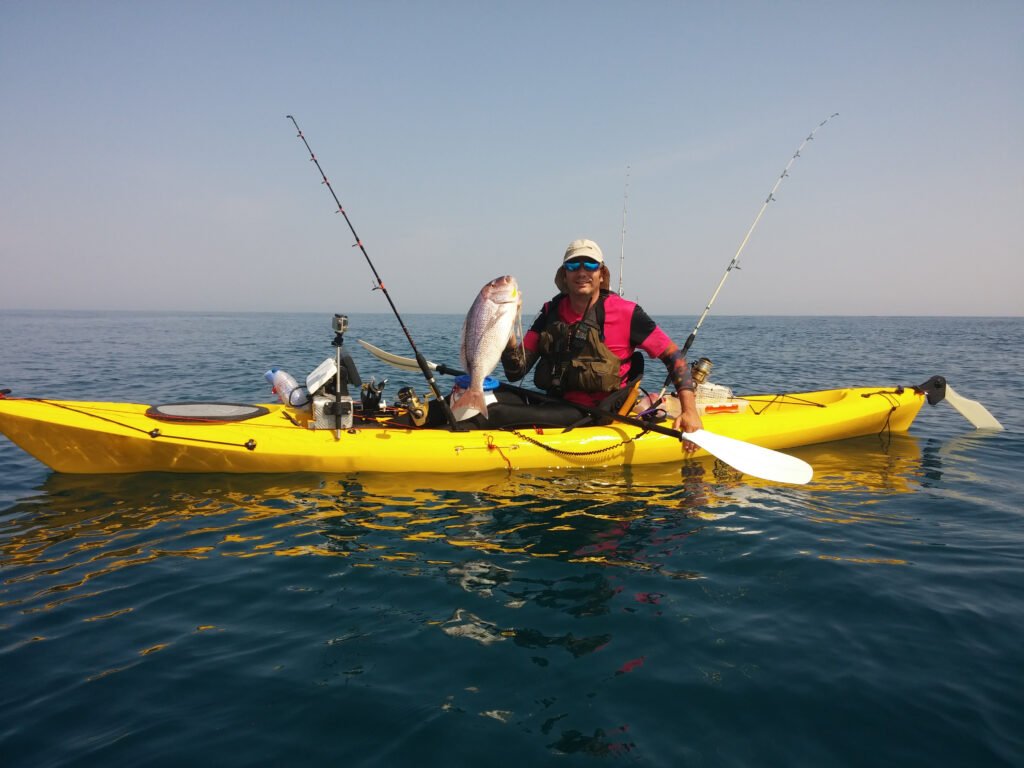 For the uninitiated, a fishing kayak is simply a regular kayak with unique features that make fishing easier. It involves minor modifications to your kayak that allow organization and ease of use. The final fishing kayak setup will depend on what you need when fishing but there are a few essential gears that you shouldn't skip on.
Read this guide if you're wondering how to set up your kayak for fishing without complications.
You can't go kayak fishing without this narrow and lightweight boat. A kayak is a canoe-like watercraft that uses a paddle to propel through the water. Initially used by Inuit people to hunt in the water, the kayak has become famous for water exploration and adventure.
These days, there are several kayak designs, including product lines made particularly for kayak fishing. A good rule of thumb is to choose one that's highly customizable and meant to fulfill your fishing needs. There are a few fishing kayaks that tick the boxes, according to www.meltontackle.com and other sites like it.
Before making any changes, remember to never skimp on the paddle. Good, high-quality paddles that are lightweight and stiff make your fishing experience better.
Because of their size and weight, kayaks aren't as secure as other types of watercrafts. It can be toppled by a strong current or wind. Below are the different safety devices in your fishing kayak setup.
Kayak vest- A personal flotation device is necessary even if you're a strong swimmer. This safety device must be worn whenever you're fishing, even in calm waters.
Bilge pump– This fishing tool keeps water away from your watercraft fast, preventing you from sinking if water accumulates on the bottom of the boat.
Anchor systems– You need to have these safety mechanisms to keep your kayak still when casting against the wind or current. An anchor system installed in your fishing kayak setup prevents your boat from drifting.Seasoned anglerscan make a trolley system or opt for an anchor pole.
Sun protection– Must-have accessories include sun lotion or cream, polarized sunglasses, and a fishing hat. Avoid dehydration by taking adequate amounts of water.
Waterproof bag- This safety tool can store items such as a radio or phone which is essential for communicating and asking for help in case of accidents. You can also keep your waterproof jacket in the bag to stay warm and dry.
Radio and GPS device- These provide communication to other vessels when you need assistance.
Keeping these items helps you experience an enjoyable fishing trip. Additionally, you must always check the weather report and avoid heading out if there's an impending storm.
Once you've ticked off the safety tools list for your fishing kayak setup, it's time to think about your main fishing gear:
Choose rod holders that can be attached to your fishing kayak setup without damaging the vessel. You can purchase rod holder mounts that offer multiple functions enabling you to swivel, rotate, or lock the rod in place. Getting a rod tube rack is also a wise investment to secure your fishing rod.
Whether fly fishing or kayak fishing, having the best reel and rod is imperative. For vessels with limited space, such as kayaks, three to four rods are enough as long as you can perform several fishing methods using one set. Never choose cheap fishing gear for your fishing kayak setup, or you'll regret it later.
Gear Organization and Storage Setup
Fishing reel and rod and rod holders may be the heart of the fishing gear. But every angler knows more small trinkets are needed to have a more enjoyable fishing experience. Poles, knives, bait, tackles, and pliers, among other tools, can come in handy when fishing.
When thinking of your ideal fishing kayak setup, ensure that the storage area is accessible but won't get in the way when you're casting or paddling.
Most kayak anglers prefer to have a trolling motor installed on their kayaks to move on the water without paddling. This motor can be mounted on the boat's middle section behind a seat. Some prefer to place it on the kayak's rear portion.
You can install the motor on the stern. But if there are seats on your boat, place it behind one. For more security, you can attach it to the milk crate.
Final Thoughts
Creating an idealfishing kayak setupmay sound intimidating, but most of it is common sense. As mentioned, safety must be your priority, and any design that impedes your movement and ability to catch a fish should be avoided.
When looking at the kayak, fishing gear, and accessories, don't always go for the cheapest, as you'll need top-quality materials to withstand harsh conditions when kayak fishing.