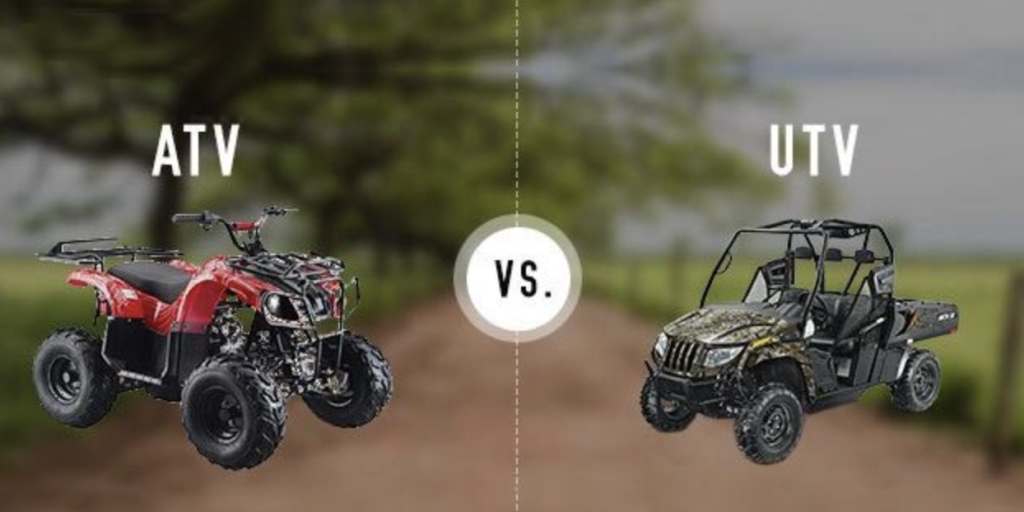 Offroading is a thrilling experience, and many people are excited about off-road driving. Driving over natural terrains- snow & ice, sand, riverbeds, mountains & forests, and rocky roads can be a fulfilling experience. When you start your searching for the right off-road vehicle, you will find that ATVs and UTVs are popular choices. ATVs and UTVs are excellent for off-roading and used for various difficult jobs like towing, hauling, and plowing. Deciding which suits you best can be tricky and depends on several factors. This blog highlights the major differences to help you make the right buying decision.
3 Important Factors To Consider Before Buying
What Do You Mainly Want To Use It For?
The foremost important question to ask yourself is your purpose and utility. For example- if you want to enjoy solo riding or a bit of sports racing, ATV can be right for you. However, if your activities involve farming or towing heavy loads, you should pick UTVs because of their robust design.
Where Exactly Do You Want To Drive?
ATVs and UTVs can navigate rocky terrain, dunes, and other difficult trails. However, you must be more specific when determining the trail you want to explore. For example- an ATV is a better choice if you want to travel to muddy terrains such as deep forests or dry river beds. On the other hand, if your trail covers rugged mountainous terrain, it's better to choose a UTV, as it's sturdier and provides more protection.
How Much Can You Afford?
Ultimately, your budget is the fundamental aspect of a purchasing decision. Often ATVs are much more affordable than UTVs. ATVs range from $300(youth ATVs) to $9000(Sports ATVs). On the other hand, a UTV can cost you around $10,000 or more.
Utility Task Vehicles (UTVs)
Utility task vehicles, also known as 'side by side' are large vehicles designed for specific utility work. For example, hauling large loads and equipment, moving cargo, transporting medical supplies to remote areas and performing farm work. These 4-6 wheelers can provide room for up to 6 people. The rear part of UTVs can also be used as a luggage compartment. Therefore, it is convenient when multiple people need space or when you need to carry luggage.
Main Features of UTVs
Standard steering wheel
A roll cage
Rear area
Seat Belts
Side-by-side seats
ATV (All-Terrain Vehicles)
ATVs can be used on any terrain, including rocky terrain, sand, icy roads, muddy tracks, and uneven land. Due to its four wheels, it is frequently referred to as a quad or four-wheeler.
ATVs are lightweight and small, making them most suitable for sports and entertainment. They can seat a maximum of 2 people and are suitable for tasks that require increased mobility, such as racing & hunting. ATVs are easily available vehicles in the market. You can even order them online from SSR Motorsports.
Features Of ATVs
Mud Tyres
No seat belts
Handlebar steering
Straddle seating position
Pros And Cons Of ATV vs UTV Vehicles
Lightweight – ATVs are flexible, lighter and faster than UTVs, giving them an advantage in tight spaces. UTVs are heavy and can perform best on rough terrain.
Safety – UTVs offer better protection than ATVs.
Accommodation- An ATV is not the greatest choice if you enjoy going on adventures with more than 2 people.
Customization – You can customize your UTV to your needs to enhance the experience.
Maneuverability– Consider buying an ATV if you want greater maneuverability. ATVs can easily pass through narrow spaces.
Budget- If you are on a flexible budget, then UTVs can be a better option. Consider buying an ATV if your budget is low.
Final Words
Whether you find riding an ATV or a UTV more enjoyable depends on your purpose and comfort. Ultimately, it's always best to be aware of your needs and choose accordingly.