Best Gadgets For Cooking Eggs
While there's no science backing up the notion that "breakfast is the most important meal of the day," after fasting while sleeping for five or so hours (we're night owls), we enjoy a considerable protein boost in the a.m. Eggs carry about six to seven grams of protein per serving, and poached eggs are having a moment right now. Now whether you're talking about breakfast, brunch, lunch or dinner, it's time to equip your kitchen with some of the awesome egg gadgets for preparing or poaching those eggs. Check it out and enjoy!
#1. Egg Minder & GE Kitchen Gadget App ($35 @ Amazon.com)
Use this particular device to store eggs in the fridge, then watch as it synchronizes with your smartphone, letting you know exactly how you're eggs are doing or if they've gone bad.  (Note: compatible with iOS 6 or above, iPhone 4 or above, and Android phones/tablets with OS 2.2 or above).
#2.
A lot of people prefer to separate egg yolks from egg whites and, without a doubt, this does the job rather well. You squeeze the piggy, and move its snout over the egg yolks, then let go and that's about it. Also, it's hard to resist the piggy's cuteness.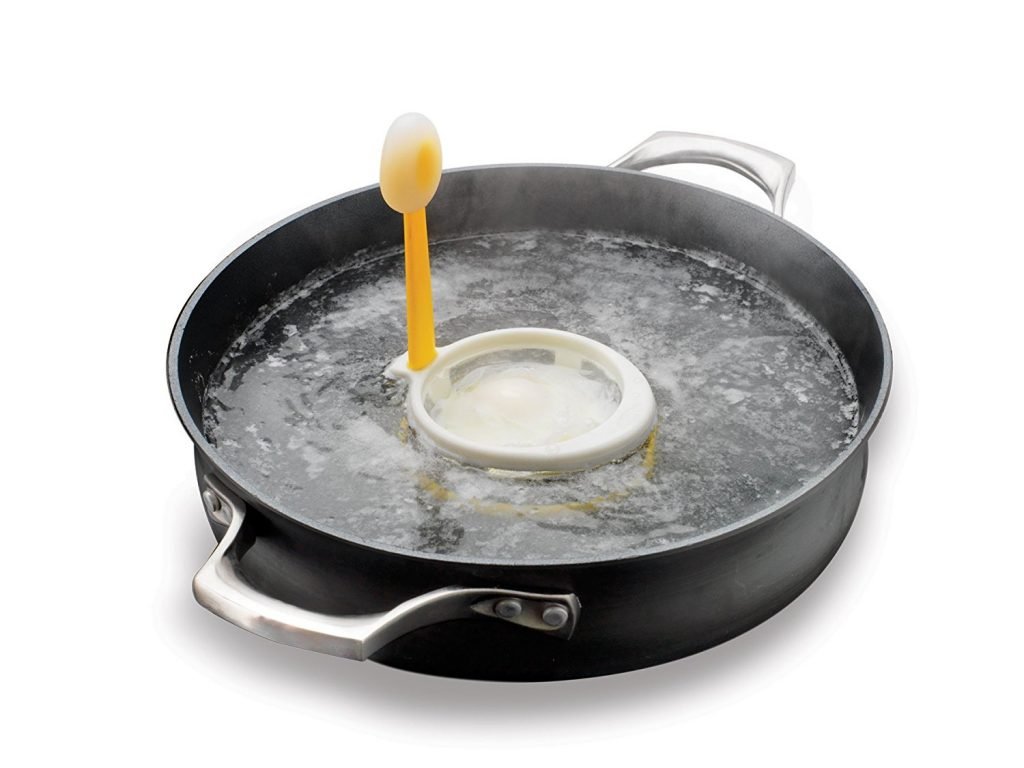 #3.
This adorable little plastic and silicon gadget makes water boil around the egg as you cook it, which allows for even poaching. You can put it into a shallow pan so the just about covers the egg. Use the handle to remove and drain by hooking over the edge of the pan. Simple and pretty damn smart. Looks kinda cool too.
#4. [three_fourth]Rollie Eggmaster Electric Vertical Egg Pop Cooker ($20 @ Amazon.com)
You must've already heard of this one by now. The Rollie Eggmaster Electric Vertical Egg Pop Cooker known for its inventive way of cooking and serving up eggs. Just crack your egg, pour, it will be done in 6-8 minutes. You can munch on your vertical egg-themed breakfast easily. Also, it's possible spice your meal with stuff like, onion, cheese, bacon, and more.