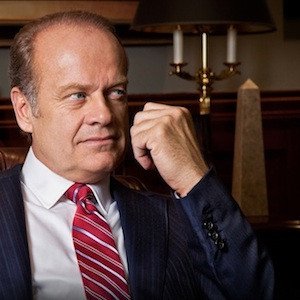 In the new Starz drama Boss, Kelsey Grammer plays Chicago Mayor Tom Kane, a ruthless politician always hungry for more power. And thanks to Boss, we're going to increase your purchasing power — by giving away American Express gift cards totaling more than $1,000 over the course of the next month.
Here's how it'll work: Each week, we'll give away a gift card and a Boss poster signed by members of the cast to someone who correctly answers a question about that week's show. This week's prize is a $25 gift card; each week that amount will increase until it hits $1,000.
Here's all you need to do to win this week's prizes:
Step 1. Watch the first episode of Boss on Starz October 21st at 10pm ET/PT — or get a jump on the competition and watch the embedded version below.
Step 2. Correctly answer this question in our comments section: Who calls Tom Kane in the middle of his transaction on the street?
You can enter until 11:59pm on October 27. After that, we'll pick one correct entry at random to win the prizes. Good luck!