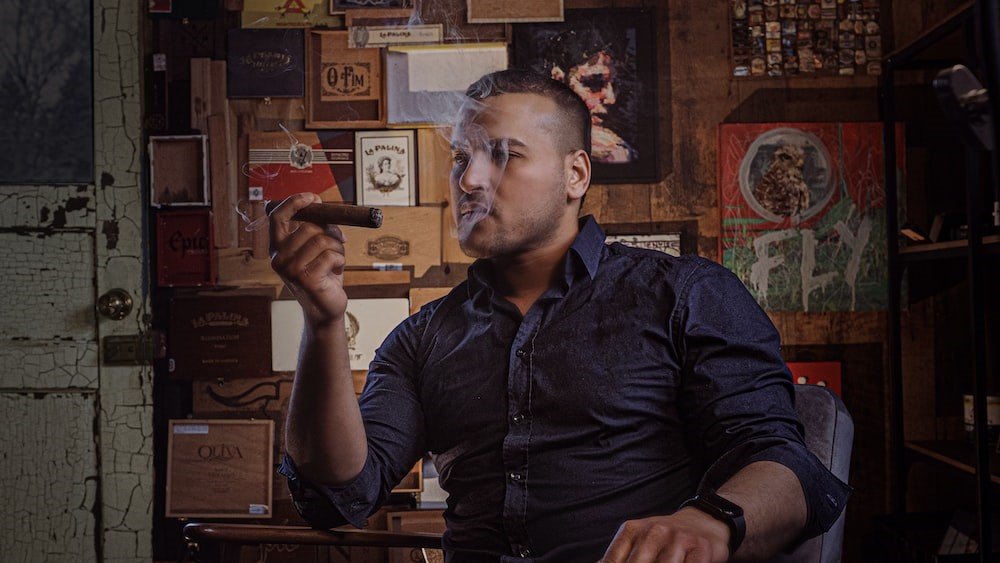 If you're on the search for a premium cigar, allow me to introduce you to the Davidoff Late Hour. It's expertly made, with sophisticated flavors and a luxurious look. Even if I hadn't already been focusing on the flavors, they were still complex and robust enough to merit my full attention. In other words, smoking this cigar is an experience in and of itself.
If you decide to purchase the Davidoff Late Hour for yourself, you have a couple different options. First, you could inquire at your local cigar lounge, or any other purveyor of fine cigars. Second, you could take your search online; I'd suggest looking at my favorite online cigar shop, Renegade Cigars. Between brick-and-mortar and online stores, you should be able to pick up some of these excellent cigars.
And now, onto the review.
In a nutshell
If you want to understand what you're getting into quickly, here are the basics:
It's only available in the Churchill shape, measuring 7" x 48
The filler comes from Nicaragua and the Dominican Republic
The binder comes from Mexico
The wrapper comes from Ecuador
The cigar was complex, and the notes evolved over time; some of the main flavors were caramel, leather, wood, earth, scotch, pepper, cocoa, hay, and charred wood.
First impressions
Before I smoke any cigar, I make sure to enjoy its visual aspect. After all, what would a premium cigar be without its delicately applied wrapper and shiny band? In this case, the Ecuadorian Habano Marron Oscuro wrapper was practically seamless; I could only spot two small veins that barely went any deeper than surface-level. The cap was also masterfully applied, another sign of fine workmanship.
The band is mostly dark black, with accents of white and gold. As a nod to the cigar's shape, there's a gold silhouette of the former prime minister himself, with his signature fedora and cigar. All in all, a very elegant presentation.
Overview
No cigar review is complete without a cold draw, and the Davidoff Late Hour didn't disappoint. It started with a creamy feel, which took the edge off of the bolder flavors – salty, earthy, wooden, peppery, and leathery.
After lighting it, I started picking up on even more robust notes in the first third; black pepper, earthiness, and oak predominated. These quickly gave way to scotch and citrus notes, which balanced out the initial impressions.
During the second third, my palette was delighted by a mix of spice, cocoa, charred wood, and hay. By the time I'd reached the last third, the leathery and salty notes were back, but the sweeter notes were still there to balance everything out. This is a cigar that's very rewarding if you want to finish it in a single session. The flavor profile was rich, but not overly so, and the evolving flavors made it a journey worth taking.
Cold draw
With some cigars, the cold draw doesn't do much to prepare you for the actual aroma profile. With this cigar, however, that wasn't the case – the cold draw was actually a pretty accurate preview of what was to come. It gave me distinct notes of saltiness, earthiness, pepper, leather, chocolate, and caramel. These are a wide range of flavors, but they all worked together really well for a complex profile.
The caramel and chocolate hit first, transitioning to peppery and leathery flavors. These then evolved into woody and earthy tones, with just a touch of saltiness. As for the draw, it was smooth and effortless thanks to the cigar's expert construction.
First third
In addition to the flavors introduced in the cold draw, lighting the cigar produced an initial note of oak, with additional notes of citrus and scotch. Taken together, I enjoyed the complex yet creamy flavors. The peppery flavor started morphing into a more charred tone, which still worked well with the flavor profile.
The smoke produced was at an intermediate level, with an even burn line. The mouthfeel was excellent as well – no wonder Churchill preferred this size!
Second third
As I progressed, I started to notice char and hay notes that underscored the bolder flavors of leather, pepper, and earthiness. The cocoa notes also became stronger, blending with the scotch. The burn, pull, and level of smoke remained consistent; the easy puffing allowed me to concentrate on the aromas, which were developing into an even more pleasant blend.
Final third
I noticed that the salty notes were amped up a bit at this stage, but not to the point of being overpowering. If anything, I think it would motivate you to finish smoking the cigar in a single sitting. Along with predominating flavors of hay, cocoa, leather, scotch, and charred wood, notes of citrus became prominent as well.
To enjoy this cigar to the fullest, I'd recommend retrohaling in order to enjoy the full spectrum of developed flavors. In keeping with its overall high quality, the cigar stayed lit throughout, and the burn line stayed straight.
Summary
If you want a cigar that deserves a dedicated smoking session, this would be a great option. The flavors work together perfectly, but they're never predictable. I started out with caramel and cocoa on the cold draw, proceeding to a hearty blend of salt, leather, and pepper on the palate. When lit, it produced a deep blend of spice, hay, scotch, citrus, and earthy notes that seemed to take turns dancing with each other.
Pairing suggestions
A complex cigar deserves an equally noble accompaniment; these are the drinks that I plan on enjoying with the Davidoff Late Hour at some point:
Rum
Port wine
Double espresso
Chocolate stout
Imperial stout
Cognac
Whiskey highball
Rye whiskey
Peaty scotch
For best results, go for the top-shelf liquor; this cigar deserves a fitting pairing. In addition to picking the right drink, I'd advise picking the right situation, such as a quiet evening when you can focus on the complexity of the flavors. I know I'll be revisiting this cigar at some point, and I'm sure it'll be the same for anyone who tries it for themselves.