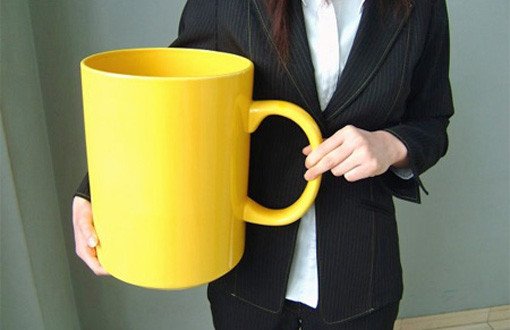 Every year, about 500 billion disposable cups are manufactured. Unless you're a scion of the Solo family, you probably think that's not a great thing for the environment. So if you're also one of the 150 million people in the U.S. who drinks coffee on a regular basis, you should probably be drinking your cups o' joe out of different non-disposable cups.
Like one of these. They stand out more than your typical monochrome non-spill coffee mug, and they're far more clever than a "#1 Dad" or "I Hate Mondays" coffee mug.
In the video game, Mega Man consumed blue energy canisters to replenish his vigor when he needed a pick-me-up to do battle with the evil Dr. Wiley. You, on the other hand, can fill your E-Mug with coffee to replenish your vigor when you're dragging ass at the office. Same difference.
Whether you're looking to sport a Trucker, a Borat, or Adolf — er, Charlie Chaplin, or a Doc Holiday or Bill The Butcher, these mugs will hook it up. (We used names of people we knew since we know, like, zero philosophers.)
The Rubik's Cube was far more annoying than its gaming contemporaries like Simon and Pong — but it's also much better suited to be turned into a coffee mug. The bad news is that you can't "solve" this mug like a real Rubik's Cube. The good news is that you won't get so frustrated trying to "solve" this mug that you'll shatter it against a wall.

Next: A Bunch More Cool Coffee Mugs!