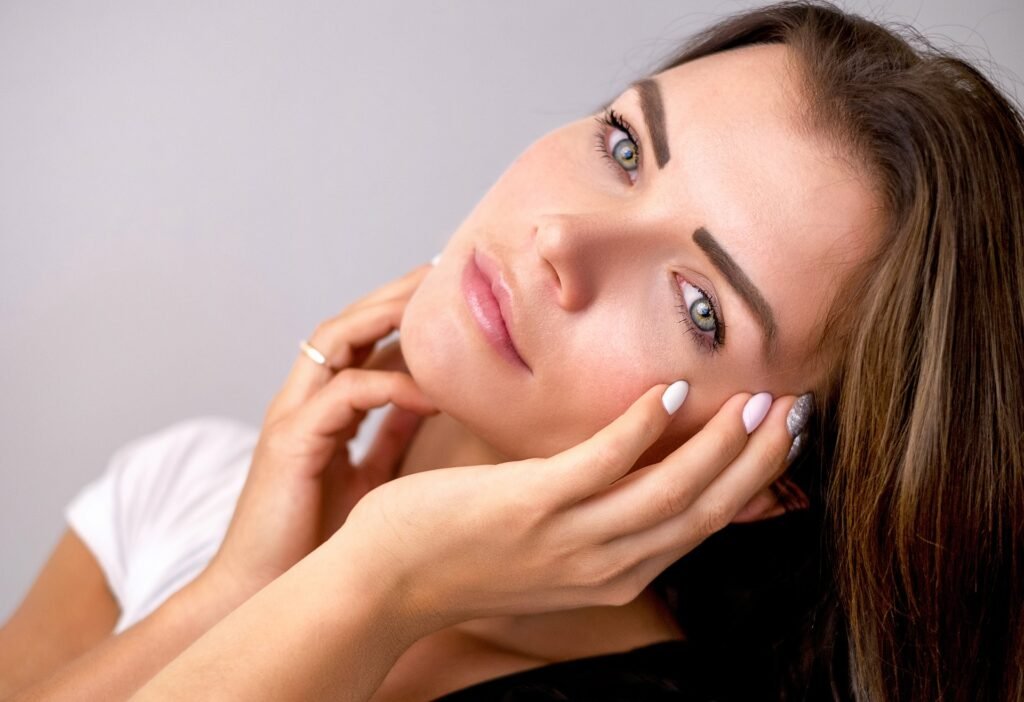 Loose and sagging skin is an unfortunate yet inevitable result of natural occurrences such as aging, weight loss, and pregnancy. Fortunately, there are quite a few options out there that can reduce, prevent, and even eliminate the sagging skin that has developed on your body and in your face over time. While there are a ton of creams, serums, and other products that claim to lift and tighten your skin, most of them are better used as a preventative measure rather than a tool to fix what is already there. If you have a good amount of loose skin, there are some amazing medical procedures that can eliminate it. Don't let this scare you off if your mind is wandering to a face lift – Below are a few minimally invasive treatments to tighten loose and sagging skin, from medical grade facials like microneedling, to non surgical face lifts such as the PDO thread lift.
1. Microneedling
There are several forms of microneedling that serve similar purposes, however some are more powerful and effective than others. One particularly advanced microneedling treatment is Secret RF, or radiofrequency microneedling, which sends radiofrequency waves under your skin using a small mechanical tool with multiple tiny needles that puncture your skin. This in turn causes controlled damage and prompts your skin to repair itself by producing extra collagen and elastin, leaving your skin tighter, healthier, and more vibrant. Not to be confused with Ultherapy, which uses ultrasound energy to tighten the skin around your lower face and jawline (more about this treatment below), the radiofrequency adds additional heat in deeper layers of the skin, making the treatment far more effective with more dramatic results than just regular microneedling.
2. Ultherapy
Ultherapy is a treatment that uses ultrasound energy to penetrate the skin deep into subcutaneous tissues to cause thermal damage to the superficial muscular aponeurotic layer (SMAS). If you have loose skin around your lower face and jawline, this may be the perfect treatment for you. The main downside with Ultherapy is that it can take weeks to months to see any results, and usually requires several (painful) sessions for optimal results. You should explore this site to get a better grasp on Ultherapy and to see if the benefits outweigh any possible risks associated with the procedure. While this is a very common and popular procedure, some of the other options are usually quicker and more effective. If you are open to waiting a few months to see results, then go for it!
3. PDO thread lift
We are all aware of the traditional facelift that involves anesthesia, scalpels, downtime, and possible scarring. While traditional facelifts are obviously effective, for many of us some of these downsides are not worth the risk. Fortunately, there is a non surgical face lift alternative, which utilizes absorbable PDO thread lifting through the insertion of barbed wires, made of the same material as surgical sutures. They are placed under the skin through a cannula and are then pulled back to create a lifting effect. The tiny sharp hooks protruding from the threads are what keeps them in place. The procedure itself does have a few possible risks and side effects, such as bruising, swelling, bleeding, and infection. However, because the threads dissolve over the course of a few months, these side effects are only temporary and can be resolved. The results should last you between 2 and 3 years and the procedure does not involve any kind of surgical intervention.
4. Laser treatments
There are a variety of laser treatments available that are great for your skin. One of the best treatments to address loose skin is Fraxel dual laser, which specifically targets superficial layers of skin. While Fraxel won't necessarily eliminate a significant amount of loose skin, it will certainly tighten and firm your skin if you are starting to notice a bit more laxity in your face. Fraxel is also great to eliminate fine lines and wrinkles and is a great tool to treat sun damage and pigmentation.
Depending on how much loose skin you have and where, one or more of these treatments could be an ideal option for you. If you have just a little bit of laxity in your skin and would like to treat it before it gets worse, Secret RF and Fraxel will likely be the best options for you. PDO threads can be used preventatively to maintain the firmness of your skin, but is also the most effective non surgical treatment to eliminate severe sagging around your problem areas, particularly in the lower face, jaw, and neck. Before you opt for any of the treatments mentioned above, be sure to consult with a medical professional to confirm which treatment is right for you and if you are a candidate for it. Aside from medical treatments, keep in mind that skin care is incredibly important to maintain a healthy glow and to help slow down the aging process. You can also speak to your dermatologist to see if there are any additional preventative measures that you can take to decrease your chances of developing loose skin in the future. Treat your skin with care and always confirm with a doctor before opting for any procedure!