c
There's not much you can say about Steve Jobs that hasn't been said before. Genius, tycoon, philosopher, visionary, etc. etc. etc. Even if you use your iPhone mainly to play Candy Crush and your iPad mainly to watch porn while you're on the can, they are stil amazing inventions that have catapulted us a little farther into "the future" we've been promised for decades. (Jetpacks and flying cars, hurry your asses up, please.)
One thing we can say about Jobs that hasn't been said before (or if it has, not much) is that he was a something of a fashion icon. And with some help form Ashton Kutcher in the new film Jobs — we're not sure how they came up with that title — Jobs might start getting credit. Okay, so maybe that mock turtleneck won't help him out, but otherwise, the dude actually had a decent fashion sense. So we've put together updated variations on two classic looks inspired by Steve Jobs the man and Steve Jobs and movie character.
1. BUTTONED-UP, EARLY '80s STEVE JOBS
Here, we've chosen the vest as the stand-out item and kept the rest classic. Pocket protector not included.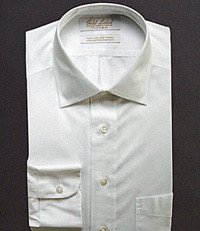 Gold Label Roundtree & Yorke Fitted Spread-Collar Dress Shirt ($49.50)
A classic spread-collar dress shirt is a fail-safe for this outfit and others. The spread collar, an all-American favorite, can be worn both casually and with dressier pieces.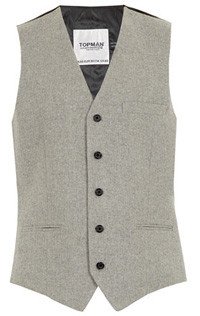 Topman Flannel Suit Vest ($70)
The vest is now becoming commonplace outside of a three-piece suit. Make sure that the one you choose fits appropriately across your chest; you want no gaping in between the buttons.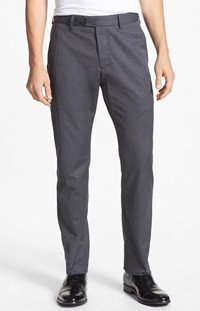 French Connection Straight Leg Trousers ($118)
To avoid looking one-note, choose a grey that's just a few shades darker, which will add some contrast … and the illusion that you know what you're doing when you dress yourself.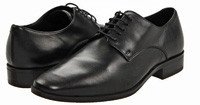 Cole Haan Air Kilgore Oxfords ($178)
If you're ever in doubt when mixing neutral-colored clothing (blacks, grays, etc.), go with black shoes to ground the look.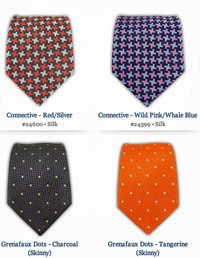 The Tie Bar Mini Dot Tie ($15)
Looks for prints that are small and dends for a more subtle impact.