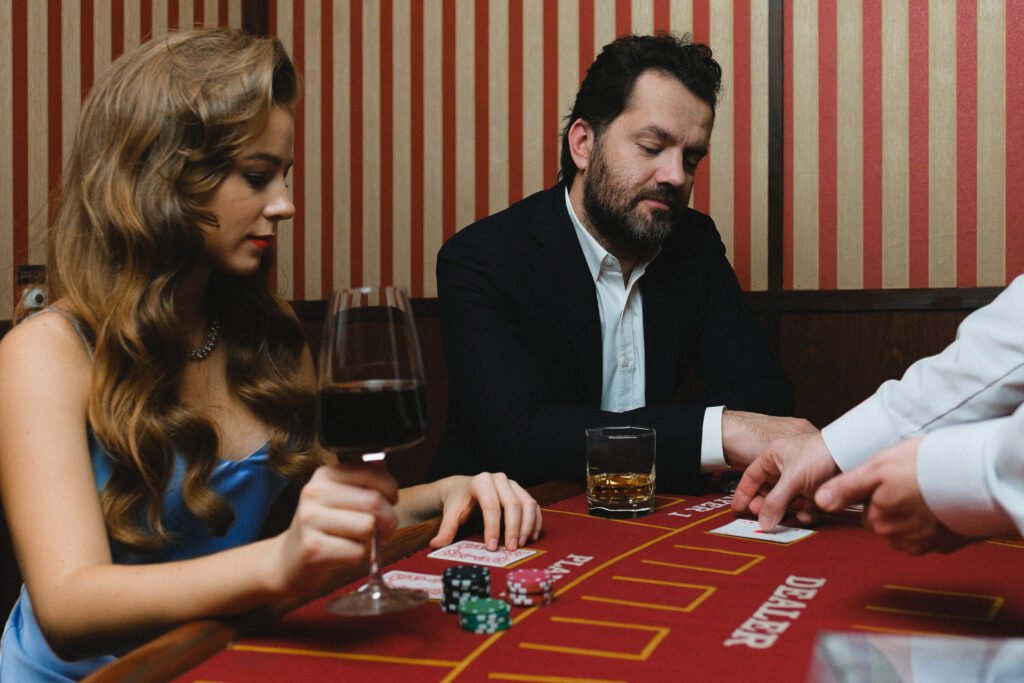 There is no occasion in your life when you don't want to look your best. One way people evaluate others is by their appearance and style, and for casino goers and those who enjoy playing card games at clubs, with friends, or at some private setting, there is no better time and place to look stylish than at the poker table. Except when playing at online casinos like those featured at casinos.com where you could enjoy your games from the comfort of your home, you want to make sure you're looking your best. Not only does dressing well exude confidence and show respect for the game, but it can also make you feel special in your skin and help create a great outing experience for you.
Creating an impressive look with simple clothing for a poker night
No matter how extravagant playing poker might sound to you, people usually opt for a classical look for that occasion. They want to impress but at the same time keep it simple. There are several combinations you can try out.
For men: Go for a crisp white shirt and dark trousers, and if you want to add some color, try pairing your outfit with a patterned tie or pocket square. For shoes, choose something timeless like loafers or Oxfords in black or brown leather. You can accessorize with a watch and cufflinks, which will give you a touch of sophistication without being too flashy.
For women: You can choose a timeless blouse in a solid color, paired with trousers or a skirt. Add some subtle jewelry and finish off your look with classic pumps. As for colors, stay with the basics and silhouettes that won't distract the game.
When it comes to attire for poker night, less is more.
Essential accessories for looking good at the poker table
Accessories should first and foremost complete your attire in a sophisticated way, but when it comes to accessorizing for a poker night, you also want them to help you with the game. For that purpose, you can wear a stylish hat or cap that will help keep your head cool and maybe shade your eyes. Also, to create a little bit of mystery around you, you can wear sunglasses. In poker, most of your moves will depend on bluffing, and your "yes" could be the biggest telltale. A watch could be an excellent investment for apparent reasons – you can keep track of time during long games. Also, if you are used to wearing a watch and looking at the time, you may be nervous without one and that could affect your game. And don't forget about jewelry. A nice bracelet or necklace can really complete your look and make you stand out from the crowd.
The do's and don'ts of dressing up for a poker night
When dressing up for a poker night, there are certain do's and don'ts that you should keep in mind. An obvious don't is not to distract yourself or others, and for that reason, you can try not to wear anything tight and uncomfortable. Avoid wearing any flashy jewelry or accessories, as these can draw attention away from the game itself onto you. Also, stay away from bright colors.
As for do's, the only rule is to make yourself comfortable. You will probably be sitting at the poker table for hours, so you don't want to wear anything too tight or too loose. Stick with neutral colors such as black, white, grey or navy blue and opt for classic pieces like a blazer or cardigan instead of something more casual like a t-shirt or hoodie. This way, you will look stylish while still being able to focus on the game at hand.
Could you wear a red dress to a poker night?
It really depends on the type of poker night you're attending. If it's a casual game with friends, then wearing a red dress would be perfectly acceptable. However, if it's a more formal event or tournament, then you should probably opt for something more conservative and appropriate for the occasion. Red is often associated with luck and good fortune, so if you want to make sure your outfit doesn't distract from the game itself, go for something less flashy.
What to wear when you play strip poker
Strip poker should be a fun experience, but the question is what to wear if you're going to take it off anyway? Well, as in regular poker, opt for something comfortable, but choose something you are not afraid to lose. An expert piece of advice is to dress in layers so that you can easily remove items of clothing. Nothing too tight or restrictive because that could make it difficult for you to take off your clothes quickly. If you don't have to, don't wear any jewelry or accessories that could get caught on other players' clothing or furniture. Does a hat count as a part of clothing you can strip during this game? It depends on the rules of the game. Some people might allow hats while others may not. The best thing to do is to discuss it with your fellow players before starting and make sure everyone agrees on what can and cannot be taken off during the game.

To look your best for a poker night, choose comfortable and stylish clothing that won't distract from the game or draw unwanted attention. Remember to accessorize in moderation so you don't take away from your overall look.