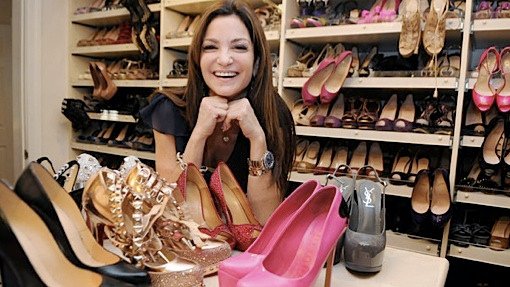 Hedge fund manager Daniel Shak desperately wants 1,200 pairs of women's shoes. They currently belong to his ex-wife, professional poker player Beth Shak, and the hoard is estimated to be worth about $1 million. Yes, that's right — a cool mil. The ungodly number of shoes were even featured on MTV Cribs and in a documentary called God Save My Shoes (we forgot to see it too). The collection includes 700 pairs of Louboutins — Beth supposedly has a tattoo of a Louboutin on a very personal area of her body — which are fancy and, we're pretty sure, made by French elves.
Truth be told, Daniel technically wants money, not shoes. It's been about three years since the couple divorced, and he's asking Beth to fork over 35 percent of their worth, claiming she never told him she owned them when they got divorced. How could he miss 2,400 fucking shoes in his own house? For one thing, he's a hedge fun manager — so they probably had a big house. Plus, he claims Beth kept them in a "secret room." She described this super secret hiding place as a "closet."
Oh, and the New York Post reports that says Daniel recently lost a few million dollars in the gold market. But we're sure that's got nothing to do with the shoe lawsuit.