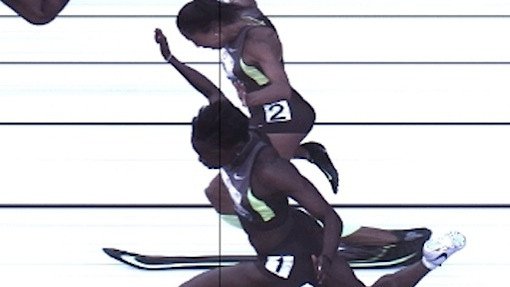 On Saturday night at the United States Olympic trials, eight of the fastest women in the country lined up for the 100 meter dash. Only the top three finishers would earn a trip to London this summer, but the race didn't produce three top-finishers — it produced four. In an era when cameras can capture up to 3,000 frames per second — think of those nature shows where the 1.5-second breach of a great white shark is turned into a 30-second slow-mo horror show — Allyson Felix and Jeneba Tarmoh had a photo-finish that was too close even for technology to figure out.
To make matters worse, the New York Times reported that the track timer initially ruled that Tarmoh finished one-thousandth of a second ahead of Felix. So for 24 hours, Tarmoh thought she was headed to the Olympics … then was told that she may not be.
A tie in track and field is usually broken by drawing lots, but since this is for an Olympic berth — both women are sponsored by Nike, which means they also have a significant cash bonus for making the Olympics on the line — Felix and Tarmoh will resolve the result one of two ways: Either a literal run-off (swimmers who tie must swim a new heat against each other to determine the winner) or, yes, a coin toss.
Both runners would have to agree to the coin toss, and it's hard to imagine world-class athletes would agree to let a commemorative coin decide their fates. Still, if it comes down to that, we recommend calling tails. It wins, like, half the time!