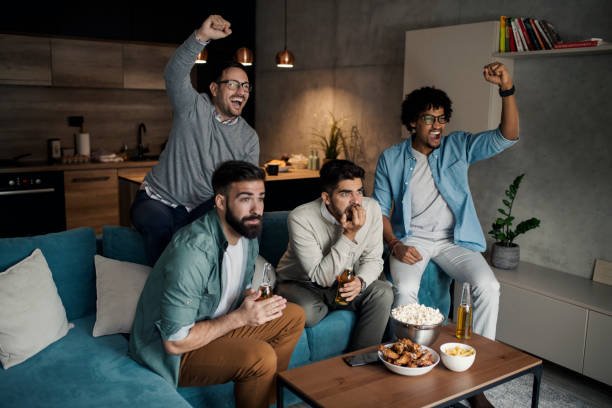 If you're sick of having nowhere to go in your home that the kids haven't already taken over, maybe it's time to start searching for the ultimate man cave space. Maybe your first instinct is to look in the basement. But it's already filled with things you need to store from the elements.The kids might also use most of the space as a playroom.
If that's the case, you might want to take a good look at the garage. Maybe all you're using it for is to park the family vehicle and store a bunch of junk you and your wife can't seem to part with. You might have so much extra stuff lying around you had to hire a contractor to install an overhead garage storage rack to keep it all out of sight and out of mind.
But no matter what space you choose to create your man cave, you should be aware that in the 2020s, there is some essential high-end gear that will makeyour personal man space the envy of all your buddies.
According to a new Men's Gear report, man caves should be designed to express all your passions and wants. For instance, if your passion is online poker, you want to install a high-end sound system, a massive flat-screened TV, and a PC with several big monitors.
Man caves are not only your "personal sanctuary" after a hard day at the office; they are where you can entertain your friends during Monday Night Football or any other occasion.
Say the experts; the best man caves will feature cool themes, masculine décor, and comfortable furniture so the guys can relax, put up their feet, and enjoy a cold beer. Taken a step further, the more unique your man cave is, the more you and your buddies will enjoy it.
With this in mind, you will want to know more about essential high-end man cave gear you might never have heard of.
R2-D2 Fridge
While it's possible you already keep a life-size R2-D2 robot in your Star Wars themed man cave, you probably don't have one that stores cold beer and spring water bottles. But Aqua has engineered a full-scale replica of the iconic Star Wars mechanical hero. Like a real droid, it's remote-controlled with sound effects, lights, and a projector function.
CUSTOM ENTERTAINMENT CABINET
If you're willing to spend a few bucks on your new man cave, you can hire a licensed contractorto install custom built-in entertainment cabinetry that will not only add style to your space, but it will also organize all your electronics.
The man cave experts swear that a custom entertainment setup will make your space the "go-to spot for game day."
SUPER STEREO SYSTEM
If your man cave is made to resemble a sports bar, a game room, or even a home theater, you will require a high-end stereo system. Whether it's playing video games or watching the Final Four, a three-piece super stereo system setup will make the man cave feel like you are inside the arena.
In the 2020s, you no longer need auxiliary cords since almost all stereos are Blue-tooth enabled, which allows you to stream whatever you desire right from your smartphone.
BIG RULES BOARD
This is one of those ideas you might never have heard about until now. A big rules board is said to serve as a "playful reminder" that you and your buddies have entered a fun place. It will list all the man cave rules, such as which items you can freely choose to eat, how to use the remote without messing it up, and most important of all, remember to leave the toilet seat up!
Your rules board should purposely be created to be out of place anywhere else, but it will make you feel at home inside your man cave.
BASEBALL BAT BANISTER
This is a unique idea for baseball fans. If you happen to have stairs leading down to your man cave, you can replace the traditional stair banister with baseball bats. It's a simple but super cool way to welcome your buddies and even the ladies into your personal man space.
TV STREAMING DEVICE
It goes without saying that no matter what the theme of your man cave is, you will want to have a huge, wall-mounted HD TV and associated sound system. You can choose to go with standard cable TV to watch the big football or baseball games, but on occasion, you are going to crave something different. A streamingdevice is designed to allow for watching videos on Amazon Prime, Netflix, YouTube, and most other platforms on your big screen. Most major tech brands offer streaming devices that are simple to use. So don't hesitate to shop around.