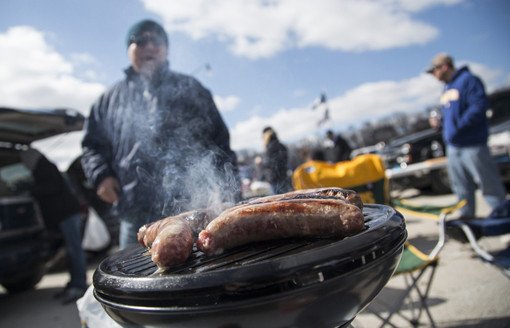 Before concerts, football games, funerals — we're game for a booze-and-greasy-food-filled tailgate. But it's not enough to show up with some white bread, frozen burger patties, and a case of Natty Ice. To make the tailgaite worthwhile, you need the right tailgating gear. These seven essentials can help you level up the experience …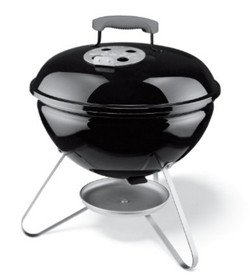 #1. Weber 10020 Smokey Joe Silver Charcoal Grill ($30 @ Amazon.com)
There are more eye-catching and larger grills available, but we're going to advise against them for reasons that with A) lugging the grill to and from the event and B) the fact that it'll be surrounded by boozed-up drunkards means it'll get the shit kicked out of it. The Weber Smokey Joe Silver Grill is portable, inexpensive, and has a 14.5-inch diameter cooking surface. That leaves plenty of room for six burger patties, or a mix of hot dogs, burgers, lamb, veggies, and any other artery-clogging foods you can think to roast.


#2.
BBQ Dragon ($50 @ Amazon.com)
For use with fire pits, fireplaces, wood stoves, smokers, and charcoal grills, the BBQ Dragon clips onto the grill and provides a low-velocity stream of cool air that generates more heat from the fire. This means you can cook more in less time. Read: More time to gas beers and less money you have to spend to get tipsy inside. It runs on AA batteries and is incredibly simple for anyone with the smarts to flip on a light switch to use.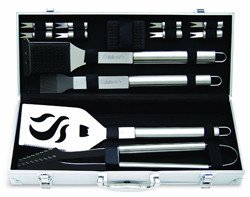 #3. Cuisinart CGS-5014 14-Piece Deluxe Stainless-Steel Grill Set($28 @ Amazon.com)
This deluxe grill set from Cuisinart has all you'll need to flip, grab, poke, and prod dead meat and veggies — a spatula, grill tongs, basting brush, four pairs of corn holders, and cleaning brush with an extra brush head. And unlike the grill itself, you can shield your grilling tools from drunken skeeves with a handy aluminum storage case.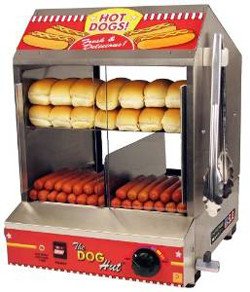 #4. The Dog Hut Hotdog Steamer and Merchandiser($318 @ Amazon.com) 
Yeah, it's pricy, but if you want to reserve the grill for meat and essentially attract everyone within an earshot of your tailgate, the Dog Hot Steamer and Merchandiser will get that done. It keeps up to 200 hot dogs and 42 buns heated, and has a glass panels to keep flies from landing on your frankfurters.  There's also an eight-quart reservoir, removable trays, and an auto shut-off mechanism.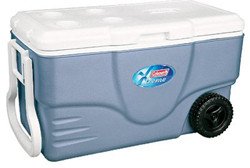 #5. Coleman 62 qt. Xtreme Cooler ($50 @ Amazon.com)
Enough space to hold ice and 82 cans of soda beer, all-terrain wheels, and an easy to grasp handle —  the Coleman Xtreme Cooler works for everything from camping, tailgating, picnicking, to hunkering down after a nuclear blast. The four beverage holders on top give you a spot to place your can, while the remained of the plastic exterior — which in total measures 31.5 x 17 x 15.5 inches (W x H x D) — provides ample room for your bulbous ass.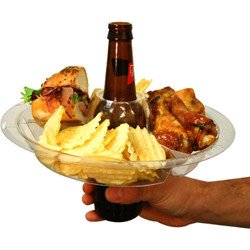 #6. The Go Plate ($34.5 for 21 reusable plates @ Amazon.com) 
Why is the Go Plate superior to traditional paper plates? It leaves one hand free so you can perform other necessary functions at a tailgating party, such as giving high fives, fist bumps and taking half-drunk selfies. The Go Plate comes with a donut-shaped hole that can be inserted atop your beverage bottle. Plus, it also got dividers and is perfect for all your finger foods like chips, dip and buffalo wings.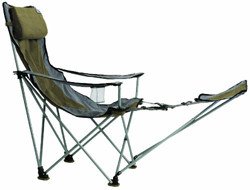 #7. Travelchair Big Bubba Chair ($58 @ Amazon.com)
If you're more of a drinker than a griller, you want to have to right chair to lounge in. The Travelchair Big Bubba Chair has a padded headrest, a detachable footrest, and a slot for holding your beer. It weighs about 11 pounds but comes with a storage bag and shoulder strap which makes it easy to transport. However, if you tip the scales are more than 300 lbs., you're going to need a different chair.


You Should Probably Read This Next … Practical Diet Tips For Fall
Want to avoid an expanding gut this fall season? It's not that difficult if you show some restraint and use these diet tips easy-to-apply tips.