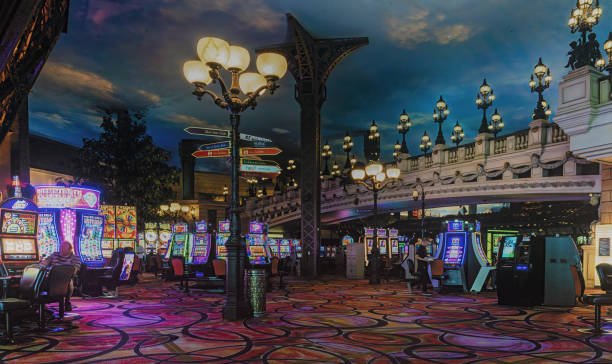 Casinos have long been the epicenter of allure and fascination, drawing millions of people from all over the world. Gambling destinations, often associated with entertainment, luxury, and excitement, have evolved from small gaming establishments to global phenomena. These entertainment hotspots offer a special fusion of thrills and indulgence, which makes them some of the most popular tourist attractions worldwide.
No matter whether you are a beginner or a veteran, gambling on iGaming sites like Vulkan casino is an experience like no other. However, nothing compares to the excitement of playing in a real-life casino amidst the glitz and glamour of the gambling world. For players seeking the ultimate gaming experience, there are plenty of destinations around the world offering a distinctive blend of top-notch gaming, vibrant nightlife, and breathtaking scenery.
With that in mind, let's examine the top-rated destinations you should visit for an extravagant gaming experience.
Top 5 Gambling Destinations Worldwide for Casino Lovers
Whether you are an experienced gambler or just looking for a taste of the good life, the best casino destinations promise to provide you with undoubtedly exciting entertainment.
Las Vegas: The Global Entertainment Hub
This magnificent city, where individuals can indulge in betting day and night, ranks among the best gambling cities in the world without any surprise. Vegas, with its more than 120 casinos, is all about flashing lights and big bucks. These thriving casinos, which feature a variety of games like slots, blackjack, roulette, and poker, are among the biggest and most extravagant you will ever find.
But Las Vegas is known for more than just wagering; it also has a thriving nightlife scene and world-class shows, concerts, and other events. So, it's understandable why Las Vegas continues to be one of the most popular betting destinations.
Macau: The Gambling Mecca of Asia
Macau, known as the "Las Vegas of the East," is a haven for gamblers seeking unrivaled gaming experiences. Due to the fact that it is the only legal gambling location in China, this city has grown in popularity. As a result, Macau provides a unique and amazing fusion of modern gambling thrills and Chinese tradition.
Macau's casinos offer an exhilarating experience, with exquisitely designed gaming floors adorned with stunning chandeliers, cutting-edge slot machines, and a variety of table games. Thousands of tourists visit Macau every year to enjoy the massive lush gardens, resorts, colonial architecture, and picturesque landscapes. Why not join them?
Atlantic City: The East Coast's Center of Gambling
Every year, millions of visitors from around the world travel to this popular resort city in the Northeastern United States to gamble at its casinos, which are situated right on the beach. Even though it is a significant global hub for gambling, Atlantic City still has a small-town vibe. Wagering has been a part of Atlantic City and its famous Boardwalk for more than a century. It went through a significant boom in the 1970s and 1980s, which transformed the city's appearance into what it is today.
Given its stunning coastline and prospering betting scene, it's no surprise that Atlantic City is a top choice for anyone seeking an enjoyable and unforgettable casino experience.
Singapore: Where Modernity Meets Tradition
Singapore is a prosperous nation with one of the world's fastest-growing economies. Additionally, casino entertainment is one of its largest industries. Even though it is still in its earliest phases, the city-state is already regarded as one of the best places to gamble in the world. Numerous betting options are available to tourists here, including slots, blackjack, baccarat, and poker, as well as Asian-themed games like sic bo, pai gow, and tai sai. Singapore's gambling industry is crowned by Marina Bay Sands, one of the most expensive independent casinos in the world.
Monte Carlo: The Classic European Playground
This area is one of the best places in the world to gamble because of its combination of leisure and luxury, as well as its elegant resorts. The French Riviera is home to a picturesque betting paradise that's frequently referred to as "a playground for the rich and famous", drawing Europe's elite to congregate and toast to their good life. High rollers looking for the pinnacle of exclusivity will undoubtedly be drawn to Monte Carlo's immersive wagering experience. This includes the excitement of the blackjack table, the allure of the roulette wheel, and the glittering slot machines.
Features of the Best Casino Destinations
Some of the key features that make the best gambling destination stand out are:
| | |
| --- | --- |
| Features | Description |
| Gaming Halls Variety | Top destinations boast of a wide range of casinos, from small and intimate venues to large resort-style complexes, whose diverse game selection can suit different preferences. |
| Gaming Tournaments | Hosting prestigious tournaments like slot machine competitions or poker championships add to the allure of these destinations. |
| Exclusive VIP Services | Renowned casinos extend special treatment to VIP guests and high rollers. Some of the perks include personalized services, exclusive lounges, etc. |
| Safety & Security | These venues prioritize safety and security to make sure guests can have a great casino without any concerns. They have state-of-the-art security measures and skilled staff. |
Even though each location has its own distinctive offerings, they all have the same characteristics that set them apart as top casino hotspots.
Spin the Wheel of Fortune: Your Dream Casino Vacation Starts Here!
Tourists and gamblers alike have been enthralled by the most iconic casino destinations worldwide, which range from the sparkling lights of Sin City to the lavishness of Macau and the grace of Monte Carlo. So get ready to roll a dice and embark on the journey of a lifetime!