Gambling can oftentimes be portrayed extremely negatively by mainstream media.
However, as modern men, we know better than to just believe everything we hear without putting it to the test.
It is true that gambling can lead people down the wrong path. Although, the same can be said about anything. Just because you go for a pint at the pub on the weekend with your friends, doesn't make you a raging alcoholic, and this exact same point stands true for gambling.
In this article, we will be giving you the modern man's do's and don'ts for gambling in the hopes of giving you a better roadmap to navigate the subject, as well as telling you a few tips and tricks to get you on the top of your game.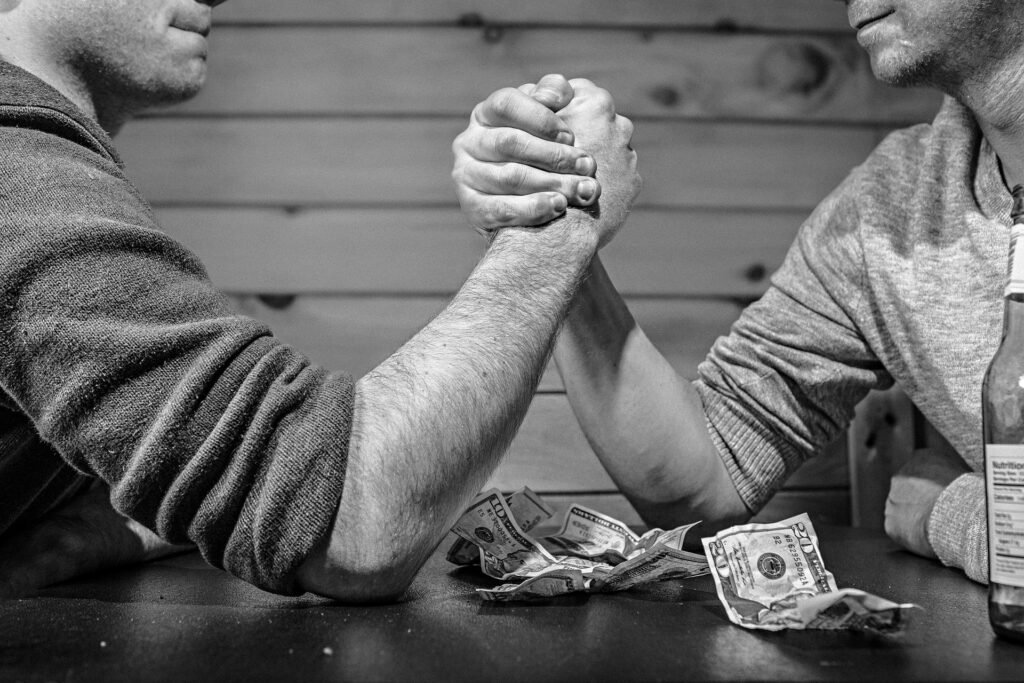 Online Casinos VS Real-Life Casino's
First and foremost, it's important to distinguish the differences between playing at an online casino and playing at a real-life casino.
Of course, going to your local casino and getting dressed to the nines is an amazing feeling. However, for the modern man, this just isn't something you want to be necessarily taking the trouble with.
Travelling to a casino can be an expensive venture, and depending on how far away you live, you may end up spending more just getting to a casino than actually at the casino.
There are so many things you have to take care of; fuel costs, food and drinks, hotel bills, parking costs, and that goes without even mentioning how troublesome a lengthy car journey can be.
However, there is a solution to this issue, and that is to use online casinos instead of their real-life counterparts.
Playing at a highly-rated online casino can give an almost identical experience to playing at a casino in person. There are even things like live games/dealers which operate in real-time with real players, and this is as close to the real deal as you can get.
With online casinos, you skip all of the travel and expenses associated with going to your nearest casino, and the experience you can have is surprisingly similar.
Although don't get us wrong, there certainly is a time and place to go to a real-life casino. From time to time, the lengthy travel journey can make the whole experience much more worth it, and as long as you treat it as a speciality, then going to casinos can be an amazing getaway.
However, the fact of the matter is, online casinos are just the smarter way to gamble.
Learn How To Play
Learning to play some of the classic casino games is a skill that every man should have in their arsenal, and there is no better feeling than knowing you have a grasp of almost every game.
If you have never played any casino games at all, then following an ultimate online casino guide that goes through all the basics can be an amazing way to get a good foothold in the subject.
Not only is learning how to play all the classic casino games an essential skill every man should obtain, but it also happens to be one of the most fun journeys you can embark on.
Sure, learning how to do your own plumbing around the house may be an extraordinarily useful skill to learn, and you should definitely do so if you have the patience. However, learning any skill like this takes a lot of discipline, and it is not likely to be a fun experience.
However, that is just not the case when it comes to learning how to master all the most popular casino games, and this venture will be one that is both fruitful and a joy to undertake.
Always Be In Control
One of the most common mistakes people make when it comes to gambling that can oftentimes be detrimental is letting your emotions get the better of you.
It's no secret that gambling is a pastime that is full of ups and downs, and it is almost a guarantee that you will have times where luck seems to be wholeheartedly against you.
However, it is of the utmost importance to not give in to your emotions when these feelings arise, and if you do, you may end up making way more bad decisions than you otherwise would have.
Furthermore, this doesn't only apply to anger, but also to excitement too.
If you are on a winning streak and feel like you are on top of the world, it can feel natural to want to carry on this win streak and start betting more and more. However, if you keep playing based on emotions instead of following tactics, you will quickly come to end your win streak.
Alternatively, if you find yourself going on a massive losing streak, the urge to keep playing to win back what you have lost can oftentimes become overwhelming.
However, in these situations, it is always better to just keep a level head and knowing when to cut your losses is essential.
Following some simple tips to stay calm can be of enormous benefit, and learning how to properly manage your emotions is perhaps the most important skill in gambling.
If you follow all of the points we made throughout this article, navigating the landscape of gambling will be next to no issue at all. Moreover, you may even find yourself beginning to have fun for hours on end once you become a master at the art.
Sure, it may take you a while to get the hang of things, and if you are completely new to the online entertainment industry, it is more than natural to not feel completely in your element.
Although, for the modern man, anything is possible.
Have fun.