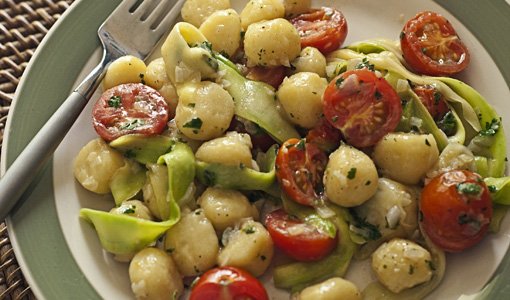 Cooking for a woman does a lot more than simply prove you know the difference between a tablespoon and a teaspoon. It conveys that you're willing to make an effort for her — and that you're good with your hands.
The ingredients for this guy recipe, gnocchi with zucchini ribbons and parsley brown butter, costs about $20, takes 40 minutes to make, and will pass inspection with a vegetarian date. It's a low-calorie meal that's high in protein (17 g) and potassium (539 mg). Though it's also high in carbs (48 g) and sodium (753 mg), so it's not ideal for late at night.
When we made it, we did all of the prep work first — slicing the cherry tomatoes, peeling the zucchini, grating the cheese, and chopping the parsley and shallots — instead of having to hustle to get it all done while the pasta cooked. We used a regular veggie peeler for the zucchini ribbons; the longer we sliced the zukes, the nicer the ribbons looked and the easier they were to peel.
Prep time: 20 minutes
Cooking time: 20 minutes
Ingredients
1 pound frozen gnocchi
2 tablespoons butter
2 medium shallots (chopped)
1 pound zucchini
1 pint of cherry tomatoes (halved)
1/2 teaspoon sea salt
1/4 teaspoon grated nutmeg
1/2 cup grated Parmesan cheese
1/2 cup chopped fresh parsley
Ground pepper to taste
How to cook it
1. Boil water in a large saucepan and follow the package instructions to cook the gnocchi. Drain the water when they begin to float.
2. Melt the butter in a large skillet over medium-to-high heat, and cook it for about two minutes or until the butter begins to brown.
3. Add the shallots and zucchini, and cook for two to three minutes. Stir often.
4. Add the cherry tomatoes, salt, nutmeg, and pepper. Continue stirring and cooking until the tomatoes begin to break down.
5. Stir in the parmesan and parsley. Add the gnocchi and toss.
Photography by Erica Schultz