In 2008, all four No. 1 seeds advanced to the Final Four during the NCAA Tournament. It's the only year that ever happened — but it's not like 2008's Tournament was without upsets: No. 8 Siena beat No.4 Vanderbilt, No. 12 Western Kentucky beat No. 5 Drake, and No. 13 San Diego beat No. 4 Connecticut.
The point is, March Madness is exactly that — madness. Pretty much anyone who regularly enters NCAA Tournament pools has a story about some bozo who filled out a bracket without knowing anything about the teams, and ended up winning the whole thing. So we decided to pit a bunch of … unwise methods for choosing brackets against each other to see who wins.
To see everyone's full brackets, click here.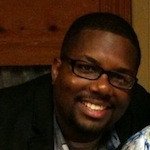 BEING A PRO
First off, we needed a control for this experiment, and for that we chose ModernMan contributor Elliott Smith. He's been a sportswriter for more than a decade, and this past season he covered Georgetown basketball for CBSSports.com. So he knows everything there is to know about the Big East … though he admittedly knows somewhat less about the other conferences.
Final Four: Kentucky, Missouri, Wisconsin, North Carolina
BEING A HOT GIRL
Amelia McDonell-Parry is the Editor-in-Chief of The Frisky. Here's what she says she cares more about than college hoops: Ryan Gosling, her dog, finishing bottles of wine, and everything else in the world.
Final Four: Kentucky, Missouri, Ohio St., North Carolina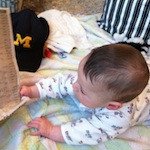 BEING A BABY
This is Walt. He is a baby. His dad — who, as indicated by the cleverly staged photo, is a typical Michigan fan who never shuts up about Michigan — presented him with two toys, representing each team in a given matchup. Whichever toy Walt went for was his pick.
Final Four: Duke, Florida, Syracuse, Creighton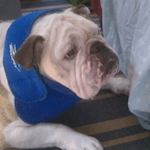 BEING A DOG
This is Brooklyn. He is a dog. To make the picks, Brooklyn's owner, ModernMan contributor Chris Connolly, held a treat in both hands. Each treat represented a team in a given matchup, and whichever treat Brooklyn went for won that game.
Final Four: Colorado, Michigan St., Syracuse, Alabama
BEING AN IGNORAMUS
Ky Henderson is the editor of ModernMan.com. He knows nothing about college basketball, but he does enjoy watching TV in bars. So each year he spends an hour feverishly doing "research" while he fills out his bracket at work.
Final Four: Kentucky, Michigan St., Wisconsin, North Carolina
THROWING DARTS
For every matchup, we assigned one team to red and one team to green. Then we closed our eyes and threw a dart; whichever color it landed in won the game. Remarkably, no one was horribly injured in the process.
Final Four: Connecticut, Colorado St., West Virginia, SDSU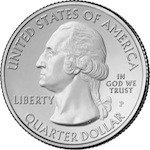 FLIPPING A COIN
After all, it's the best way to make all of life's most important decisions.
Final Four: Colorado, New Mexico, Vanderbilt, Belmont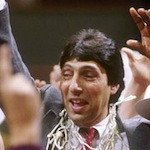 CHOOSING ALL UPSETS
Four No. 16 seeds in the Final Four? Hey, it could happen! (Not really.)
Final Four: Western Kentucky, LIU, UNC-Asheville, Vermont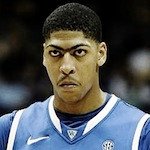 CHOOSING ALL CHALK
It's a gutless bracket … but it also has a decent shot at winning.
Final Four: Kentucky, Michigan St., Syracuse, North Carolina