The right side dishes can make or break Thanksgiving dinner. Sure, turkey is officially the main event, but it's really the side dishes that people end up raving about afterwards. So we've chosen two great guy recipes for Thanksgiving dinner side dishes — Parmesan, garlic, and chive mashed potatoes, and two-cheese squash casserole. They look great, taste great, and aren't too labor intensive. We shelled out about $40 for the ingredients to both, not including basics like salt and pepper. We're guessing that if you don't own salt and pepper, you're not going to be cooking Thanksgiving dinner anyway.
Oh, and look for evaporated milk in the aisle with baking supplies, not in the refrigerator section with normal milk. We nearly had a temper tantrum in the store trying to find the goddamned stuff.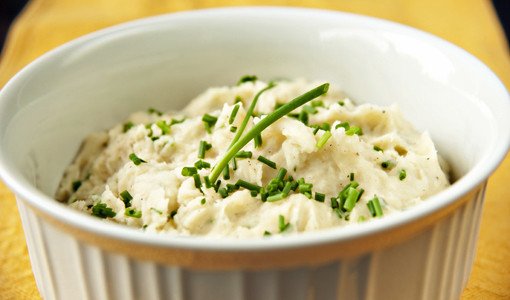 PARMESAN, GARLIC, AND CHIVE MASHED POTATOES
Prep time: 15 minutes
Cooking time: 20-25 minutes
Serves: 4
Ingredients
3 large potatoes, washed, peeled, and diced
6 cups water
1 teaspoon salt
4 cloves garlic, peeled
1/4 cup extra virgin olive oil
1/2 cup evaporated milk
1/3 cup grated Parmesan cheese
1 teaspoon fresh cracked black pepper
2 tablespoons chopped chives
salt (optional, to taste)
How to cook it
1. Add the water, diced potatoes, and garlic cloves to a medium-sized saucepan. When the water boils, add salt; cook the potatoes for 20-25 minutes or until tender.
2. Drain the water from the saucepan; mash the potatoes and garlic while still hot.
3. Add the extra virgin olive oil and evaporated milk; continue mashing.
4. Mix in the cheese and season with pepper and salt to taste.
5. Add the chopped chives.
6. Serve.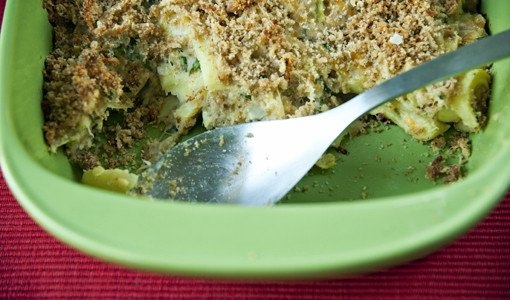 TWO-CHEESE SQUASH CASSEROLE
Prep time: 20 minutes
Cooking time: 35-40 minutes
Serves: 4
Ingredients
4 lbs. sliced yellow squash
4 tablespoons butter
1 large sweet onion, chopped
2 garlic cloves, minced
2 1/2 cups soft breadcrumbs
1 1/4 cups shredded Parmesan cheese
1 cup shredded cheddar cheese
1/2 cup chopped chives
1/2 cup minced parsley
8 ounces of sour cream
1 teaspoon salt
1 teaspoon freshly ground pepper
2 large eggs (lightly beaten)
1/4 teaspoon garlic salt

How to cook it
1. Put the squash in a pot of boiling water for 8 to 10 minutes.
2. Drain the water.
3. Melt 2 tablespoons of butter in a skillet over medium-high heat; add onion and garlic, and sauté for 5 to 6 minutes; remove the skillet from the heat.
4. Return the squash to the pot and add 1 cup of breadcrumbs, cheese, chives, parsley, sour cream, salt, pepper, eggs, and garlic salt.
5. Spoon into a lightly greased (with cooking spray) 13 x 9 inch baking dish.
4. Melt another 2 tablespoons of butter and stir it with 1 1/2 cups breadcrumbs, 1/2 cup cheese, and garlic salt.
5. Sprinkle the mixture evenly over top of the casserole.
6. Bake at 350 degrees for 35 to 40 minutes.
Photography by Erica Schultz