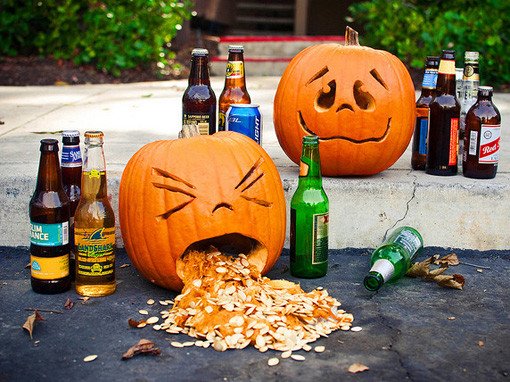 How To Make 3 Delicious Halloween Cocktails
We can't blame you for wanting to keep a low profile on Halloween since inebriated idiots often act like the assholes they're dressed as. (Side note: If you're out and about on October 31 and a spot a dude wearing this Sloth mask, drop your pillowcase full of candy and head for the hills.) So if you're staying in, why not invite like-minded people over to your pad for a few Halloween-themed cocktails instead?
These two spooky drinks are simple to make and tasty to sip. We even threw in a festive shot that'll help you fight a hangover on November 1.
THE BRAIN HEMORRHAGE SHOT
• 1 oz Peach Schnapps ($7)
• ¾ oz Bailey's Irish Cream ($17)
• Splash of Grenadine ($4)
How to make it:
1) Pour shot of Peach Schnapps
2) Slowly pour in the Bailey's Irish Cream
3) Top off with Grenadine
4) Don't stir
*This pain in the ass took four tries to get right; but it tasted delicious and looks cool when you nail it.