First, a few things to know before you buy a new TV. One, you don't need to spend a ton of loot on expensive cables. You can get a two pack of HDMI cables from Amazon.com for $8, whereas the same cables will run you close to double that in some stores. The extended warranty? Leave it. The factory warranty should be plenty. According to Consumer Reports, most consumers don't need the warranty within the first four years of owning a television.
Also: Awesome Men's Watches Under $300
LCD or plasma? You'll find more LCDs on the market as plasma slowly fades into the land of Sega CD. OLEDs are a hybrid but aren't affordable as plasmas. Also, LEDs typically have a brighter picture than plasmas and remove the risk of burn-in. However, plasmas can also cost a bit less. So if your choice is strictly on budget, check those first. Either way, these six should get the search moving.
Oh, and before we forget. LG, Sony, and Samsung came highly rated when it came to larger screens. Not saying to take that as gospel, but the experts we referred to all agreed that they were good options.
*Pictured: #1. LG Electronics 55EA8800 55-Inch 1080p 3D Smart OLED TV ($4,500 @ Amazon.com)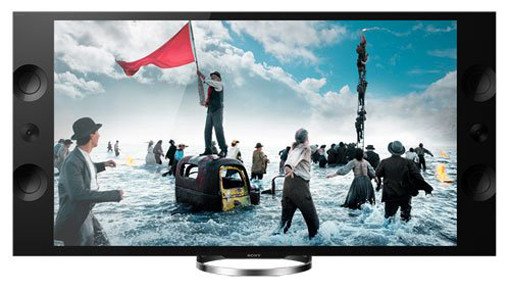 #2. Sony XBR-55X900A 55-Inch 4K Ultra HD 120Hz 3D Smart LED TV  ($2,500 @ Amazon.com)
The 3D might be a perk but it's not what sells this unit. That would be the 4K Ultra HD that supplies incredible detail — four times more detail than 1080p HD television sets. Of course, that also means content displayed in 1080p will look sharper. The front-facing 65-watt speakers offer great sounds and the build in Wi-Fi and an NFC remote control. All told without the stand you're looking at dimensions of 57.6″ x 29.5″ x 4″ (width x height x depth).