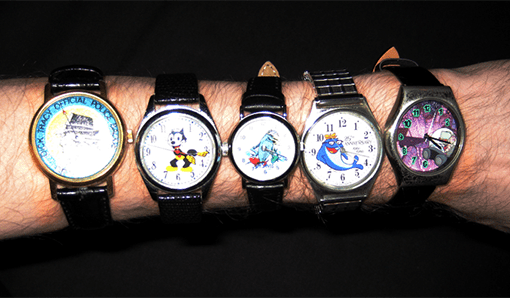 So far, we've taken a look at the sort of watches that are available to you in the under-$100 and under-$200 price points. While they both have competent and stylish options available, you definitely see more flexibility in what's available to you as the price range increases. Sure, you could take this as some "money is no object" conclusion, but that's not what we're here to cover. When it comes to affordable watches, I think that $300 is a sort of sweet spot for someone looking to get a "serious" watch, and the five we've selected here highlight that.
Featuring the classic look of bold black numerals on a white dial, this chronograph watch offers consummate style. Imported from Japan, it displays a chronograph sub-dial directly above the six o'clock baton as well as the number twelve in a striking red hue. The rugged, brown leather strap completes the timeless design.
Embodying fine Italian artistry, this imported watch features a distinctive blue dial, etched bezel and gold-tone stainless steel case and batons. Its handmade Italian leather strap displays a texturized surface, fastening with a stainless steel buckle. With only 120 pieces designed in this color worldwide, this watch also has a two-year warranty.