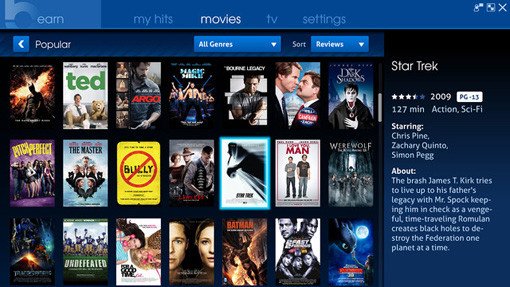 Sites like Project Free TV allow you to stream newly released movies and TV shows for nothing. Which is great, except for a couple of things. One, it's technically stealing (despite allegedly being "absolutely legal"). Two, the videos are extremely inconsistent; annoying pop-up ads, damaged links, subpar video quality, and constant buffering often ruin the viewing experience. Which is why we've often wished that a new service with a terrible name would emerge to help bridge the gap …
Meet HitBliss.com.
Unlike Hulu Plus, where you pay $8-11 per month for movies and TV and still have to sit through advertisements, HitBliss.com users essentially unlock content by giving advertisers their time and attention before streaming. How? By watching commercials and movie trailers, or by participating in surveys and polls. And sorry, but you can't game the system. Periodic prompts ask you to verify you're still in front of your computer; if you're not, the ad pauses. If you navigate away from the window, the ad pauses. If you mute the ad, the ad pauses. Targeted advertising based on location, gender, age, income, and viewing history on HitBliss can earn you more credits faster.
And no, you won't be stuck watching reruns of Dharma & Greg and the Police Academy oeuvre. HitBliss content comes from places like Universal, Starz Media, Paramount, the CW, and the Weinstein Company, and it isn't lackluster by any means. Hitbliss movies become available four months after they leave the theater; TV shows appear the day after they air.
And if all of this ad watching or survey taking sounds like too much of a pain in the ass, there's also the option to purchase HitBliss movies and shows just like you would on iTunes or Amazon Instant.