If we asked you to make a screwdriver and you had no idea as to what ingredients were used in its mixing, we'd totally understand. But we're guessing you'll have the smarts to determine how to make "candy cane vodka" simply by the name. If not, be honest — how the hell did you pass the third grade, dude?
The upside to this cocktail is that it's easy to make and tastes like peppermint candy canes. All you need is a large mason jar, candy canes, and vodka. We went with the large jar because we wanted to drown ourselves in the Christmas spirits.  We also used New Amsterdam Vodka because they were kind enough to send us a bottle to test out. Yum.
The downside is that each standard six-inch candy cane contains 11 grams of sugar, so placing eight canes into your mason jar leaves you with — you guessed it — enough sugar to power Santa through an all-night booze bender and a zip around the globe to deliver gifts.




CANDY CANE VODKA
Ingredients
• 8 regular-sized — or 6-inch — candy canes
• 1½ cups vodka — or more if your rocking an XL mason jar
Instructions
• Unwrap the candy canes and break them in half.
• Place the broken canes into a mason jar.
• Pour the vodka on top of the candy canes, and watch them die a slow death until they dissolve completely (this might take an hour or two).
• Drink like nobody's watching.


*Photography by Erica Schultz.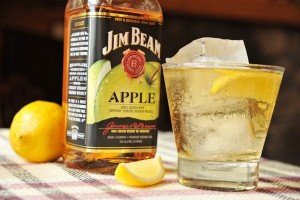 Make This Next: Cocktail Recipes: Jim Beam Apple Ginger Cider
Use Jim Beam Apple to create this fall cocktail that tastes delicious and will impress guests (read: women).