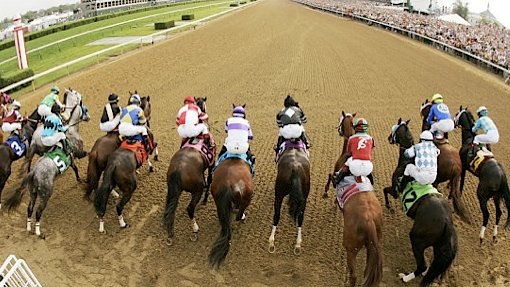 The 142nd running of the Kentucky Derby is on Saturday, May 7, and more than $100 million will be bet on the day's races at Churchill Downs (the Derby is technically one race, but there are several races that go off over the course of the day). If you've never been, go; infield tickets are relatively inexpensive, and you don't need to be wearing seersucker in order to drink beers (or mint juleps) and cheer on the ponies in the midst of what amounts to a gigantic party.
But it's all but pointless to go if you don't bet on the races. And it's all but pointless to bet on the races if you don't know what you're doing. So even if you stick to $2 minimum bets, use this easy guide to hit the superfecta … or at least, not piss off everyone behind you in line at the betting window.
TYPES OF BETS
To Win: We think you can figure this one out.
To Place: Your horse will place first or second; your odds of winning improve, but the amount of cash you'll win decreases.
To Show: Your horse will place in the top three; again, the returns are worse.
Across the Board: You can choose win, place, and show, or a combination of two of the three. But you have to dish out money for three separate bets (you can bet different amounts on each).
Exacta: The two horses you bet on come in first and second, respectively.
Quinella: The two horses you bet on come in first and second, and the order doesn't matter.
Trifecta: You bet on three horses to finish first, second, and third, respectively.
Superfecta: The four horses you bet on will finish first, second, third, and fourth in an exact order.
That said, if you don't make it to Kentucky — and let's face it, you probably won't — you have options to (legally) place a bet and make off with some coin.
"Don't be intimidated by all the wagering terms. Choose a horse based on the name, color, or story you like," says Ed DeRosa, of TwinSpires.com, the official betting partner of the Kentucky Derby. "Racing has a reputation for all these stats. But in reality, betting on horse racing as a novice is easier than with other sports. You just pick a horse to win. And if that horse wins, so do you."
In other words, if you feel so inclined, forget what we wrote at the beginning, pick a random pony, place a bet, and drink your face off. If you win, someone will notify you. Cheers.